How to Remove Pet Stains from Hardwood Floors
Pet stains! Agh! The bane of everyone that finds them in their hardwood floors. When we talk about dog, cat, and other animal urine stains and how to remove pet stains from hardwood floors, there are two categories. First are the fresh urine stains that have recently happened. You come home to find a puddle of fresh dog or cat pee in the corner of a room. The second is the older, set-in stains that have been there for years. These are usually found under old ripped-up carpets, removed to restore the wood flooring underneath. Pet stain removal is important to get right if you want fresh, urine-free floors.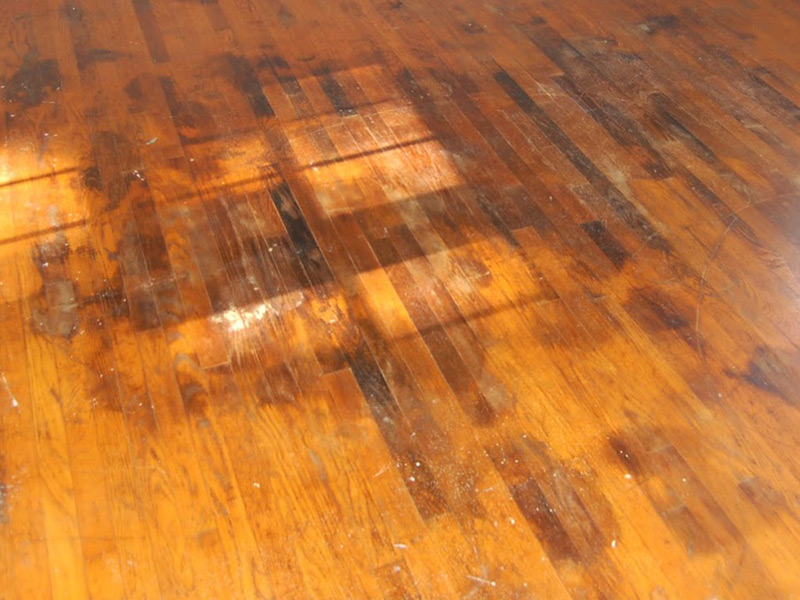 For fresh stains, you'll need to take care of them as soon as possible to get on top of the potential damage. For long-term stains, understanding the various options to repair them is vital to get your floors back to looking and smelling great. So below, we'll explore 1) the best methods to clean up fresh pet urine stains. 2) How to identify and best ways of removing deep existing stains from hardwood floors. 3) preventative measures to protect against future pee episodes on your wood floors. Let's start with the first category of pet stains…
Fresh Urine and Pet Stain Removal from Hardwood Floors
So, you've found a puddle of pet pee on your wood floors. Now what?
1. Act Fast to Clean up the Urine
The best thing you can do is act fast and clean it up asap. The longer the urine sits on the floor, the deeper it can penetrate into the wood. Making it harder to remove and causing more damage. Of course, that's not always possible. If you're out or don't notice the pee puddle straight away, it's going to sit there for some time. But... as soon as you do notice the urine stain, grab some paper towels or a clean cloth and blot up as much of it as fast as possible. Grab as many cloths or dry towels as needed.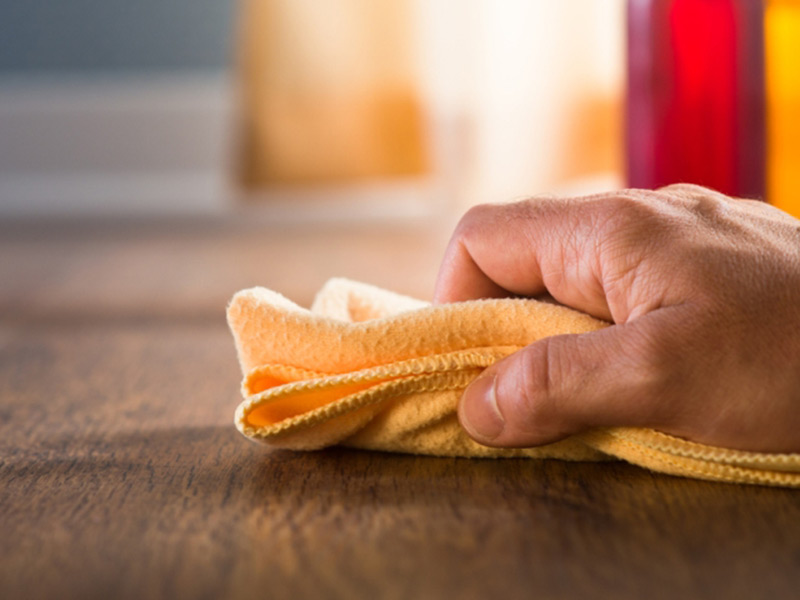 How easy it will be to clean up depends on whether your floor is well-sealed or has a worn-out finish and gaps. If you have gaps, then using a wet/dry vacuum will help suck the urine up easier. Use it along with the cloths until the floor is as dry as possible.
2. Use Baking Soda
If you're having trouble getting all the liquid out of the gaps, try sprinkling baking soda on them. It will absorb the urine, as well as help with the nasty pet odors. You can then use a knife and vacuum to dig out the soaked baking soda and vacuum it up.
3. Finish with a Neutral Cleaning Solution
After you've wiped up or vacuumed up most of the urine, mix up a bucket of warm water with a neutral cleaning agent. Regular dish soap or a professional hardwood floor cleaner can work. Dip your clean cloth into the solution and gently scrub the pee-affected area. Make sure to have dry towels or the wet/dry vacuum handy to soak up the excess solution. Also, make sure you don't saturate the floor with water. If you get the floor even wetter than it already is, you can cause the wood to warp or buckle. If that happens, you'll have no option but to sand the floor down to remove them.
How to Remove Existing Long-Term Pet Stains from Hardwood Floors
While you can clean fresh pee puddles relatively easily and quickly (if caught in time). Long-term, set-in pet stains are a whole other issue. Most pet stains have penetrated deep into the floor by the time you find them. Pets tend to pee in the same spots repeatedly. These areas get soaked with urine over and over again. They're going to take some work to fix. First, let's take a quick look to see exactly what kind of stain you're dealing with. Below is a list of three common characteristics of pet stains vs water stains from pot plants:
Pet stains smell, a lot. Really bad. Water stains don't.
Water stains have a dark grey shade. Pet stains are a dark black/green color.
Pet stains are in irregular shapes with undefined edges in the stained area. Pot plant stains are usually in ring/circle shapes.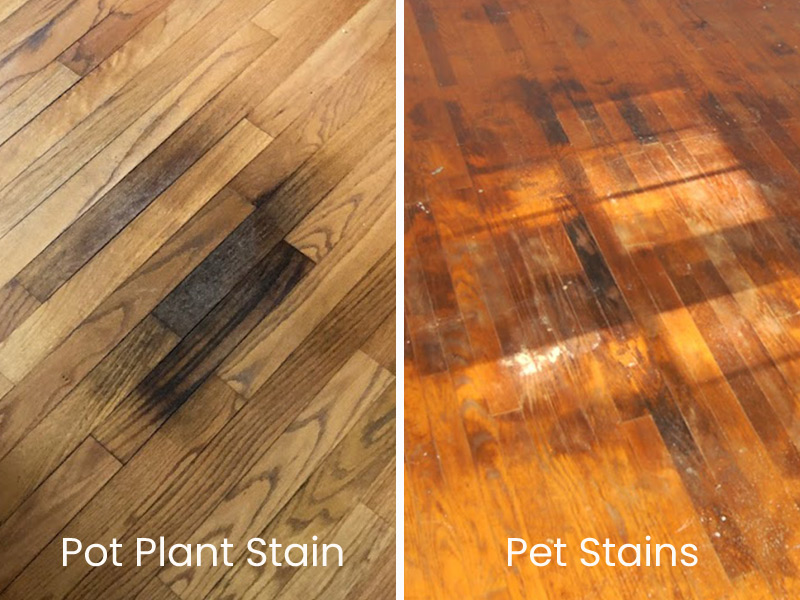 If you're sure you have a pet stain, then don't stress. They can definitely be fixed. But most likely it will be a tad more work than a quick Google search to remove pet stains will have you believe. Look up "pet stain removal," "remove pet stains," or "pet stain odor removal" on Google. You'll find all kinds of DIY suggestions and cleaning chemicals. Hydrogen peroxide. White vinegar or some other vinegar solution. Steam cleaners. Sprinkle baking soda. Regular detergent. Enzymatic cleaners. And all sorts of different cleaning chemicals odor removers to clean pet stains. Some of these may work for fresh, wet spots. But they won't work on a long-term soiled area where the urine and pet odors have soaked in for weeks, months, and years. For these long-term pet stain areas, you basically have three options…
Option 1 - Replace your Damaged Boards
This is our preferred way of repairing urine-soaked wood flooring. It guarantees the stain is completely removed. Your floor will look and smell fresh and new. (Be prepared to replace or repair a section of the subfloor if the urine has soaked down that far.)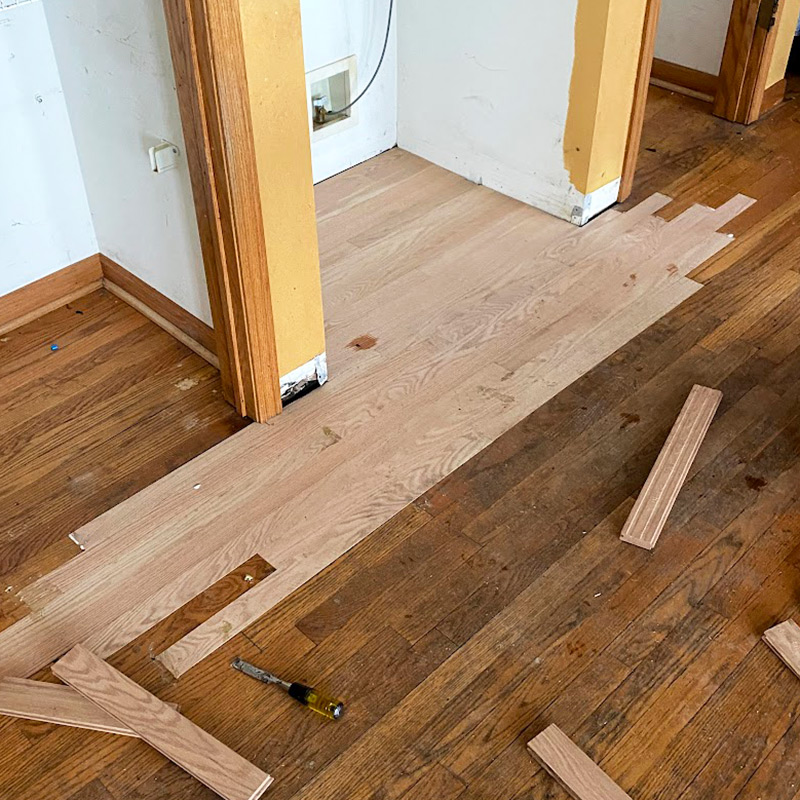 Costs for repairing a 2'x3' area with 1 1/2" strip red oak flooring can range anywhere from $300-$800. Depending on where it is, the layout of the floor, if there are custom borders and floor vents, etc. To figure out how many boards need replacing, count all the boards with discoloration. Include the surrounding boards too. They may have soaked urine underneath that's not visible, but they could still hold the smell. In most cases, you will also need to sand and refinish the entire room after board replacement. That will help to achieve a uniform look. If this repair is part of a whole hardwood floor sanding and refinishing project, that will be taken care of. Board replacement with top-nailed strip flooring isn't too difficult for a DIYer. Especially if they have some woodworking experience. Tongue and groove flooring is a bit more challenging. But still well within the skills of a competent DIYer.
DIY: If you choose to go down this route, make sure you have proper tools. You'll need a pry bar. A hammer. A chisel. Circular and table saws. And nails suitable for hardwood flooring. Make sure to ask your floor sander for some tips before attempting the repair.
Hiring Professionals: Some homeowners may feel confident enough to tackle board replacement themselves. Others won't. Hiring professionals like Dans Custom Hardwood Floors will save time and ensure quality results. Professional flooring contractors have experience working with various types of wood species. Experience with professional installation and repair methods. That will ensure seamless integration between existing and new boards.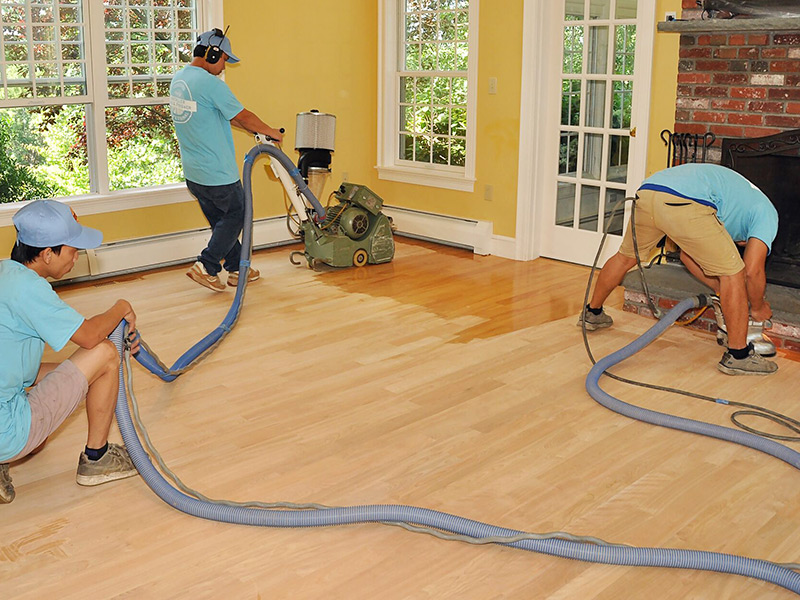 The two biggest professional tips we have are: 1) make sure you source the same type of wood to do the repair with. 2) Stagger the joints so it blends in with the existing floor pattern. If you just cut out a rectangle section and install the same-sized boards, it will look like a lousy DIY patch job. That will stand out as much as the original pet damage - negating any pet stain removal efforts.
Option 2 - Stain your Floors a Dark Color
This is a popular pet stain repair choice. There are no boards ripped up and replaced with this option, so there are no installation costs. But this option doesn't actually remove the stain. Instead, it's a gung-ho attempt to cover and hide the set-in pet stains and cover the urine smell as best as possible.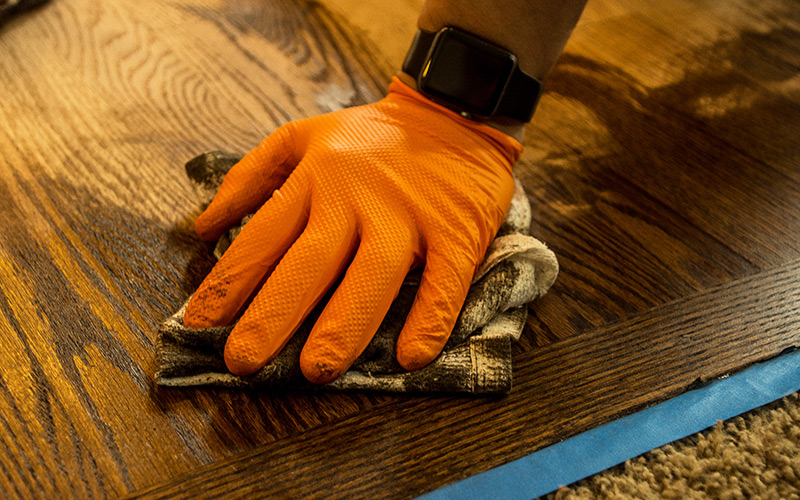 If you have many stained areas, staining the wood floor dark to cover them will be a cheaper option. Cheaper than replacing all the damaged wood with new boards. It works, but not always perfectly. A lot will depend on how dark the damaged area is. The downside to covering pet damage with colored stain is it will need to be a very dark color to hide them. If you don't love super dark floors, then yeah, you may want to skip this option. But just know that light and medium color stains will still show the damage. So, what darker color stains would work? Some of the more popular choices include:
True Black: A very dark, intense black. Much darker than all the above. A very good pet stain color choice if you really want to hide them.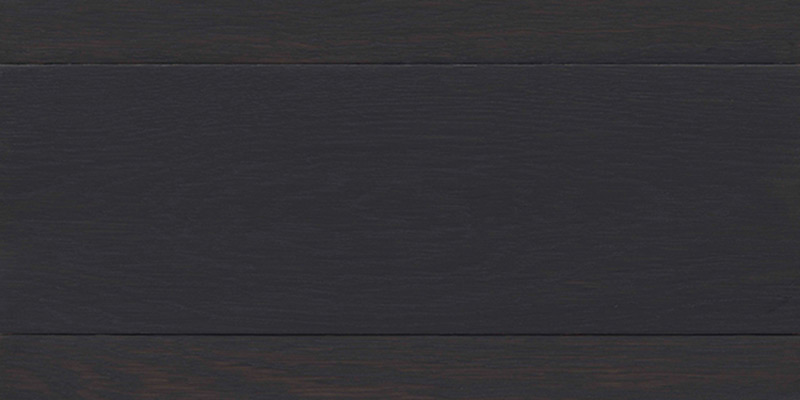 Royal Mahogany: This is a nice deep shade with deep red undertones that works really well with most wood species.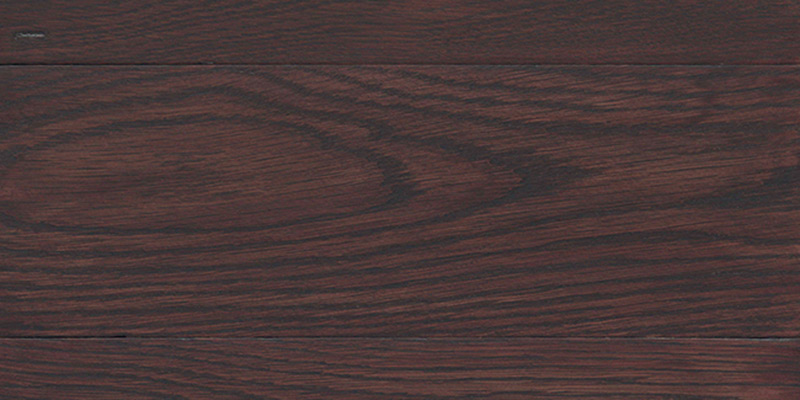 Jacobean: This color is a rich, warm-toned brown that really complements traditional styled interiors.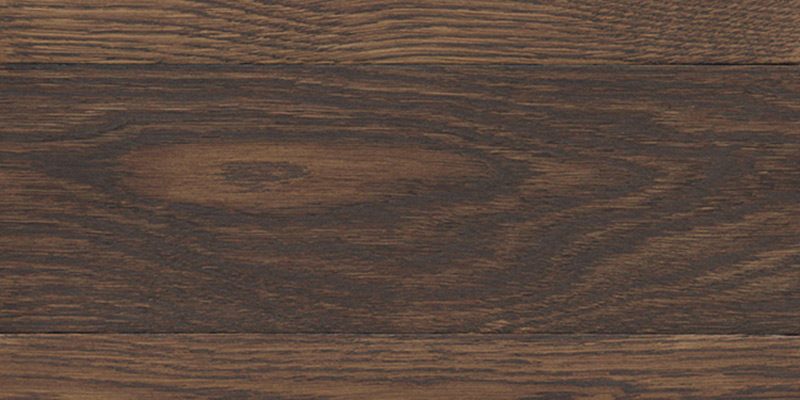 Ebony: An almost-black shade. The original dark choice! It's perfect for creating dramatic contrast in modern designed homes.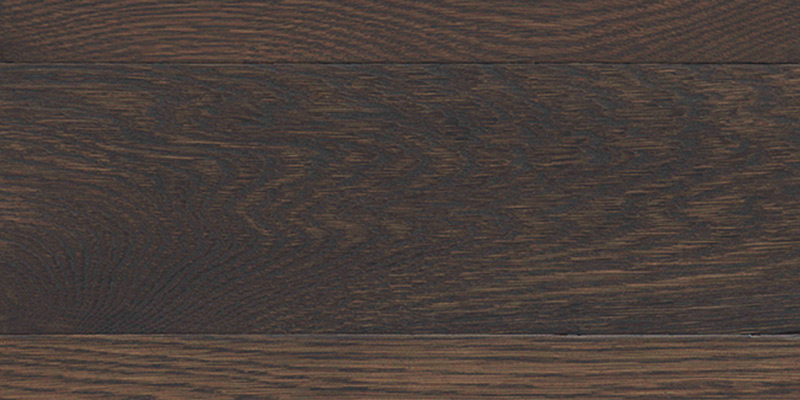 If you want to get the stain to be deeper and darker, then make sure you water pop the floors before staining. This opens up the wood pores and allow the stain color to penetrate much deeper and far more evenly. Doing this hides the damage better. And if you want to get the darkest floor possible, use a two-stage finish system. Rubio Monocoat Intense Black Pre-Color Easy with Charcoal Oil Plus 2C on top will work. DuraSeal Ebony stain and 2+ coats of Pallmann Magic Oil Black is a good option too. With the floor water popped first, these systems will provide a very dark floor. Perfect for covering those nasty pet puddles. If you choose this option, it will add about $1.25 to $1.50/sq ft to the project, on top of sanding and refinishing costs.
Option 3 – Cover the Stains with Furniture and Area Rugs
Obviously, this is the least popular option. But it is the cheapest.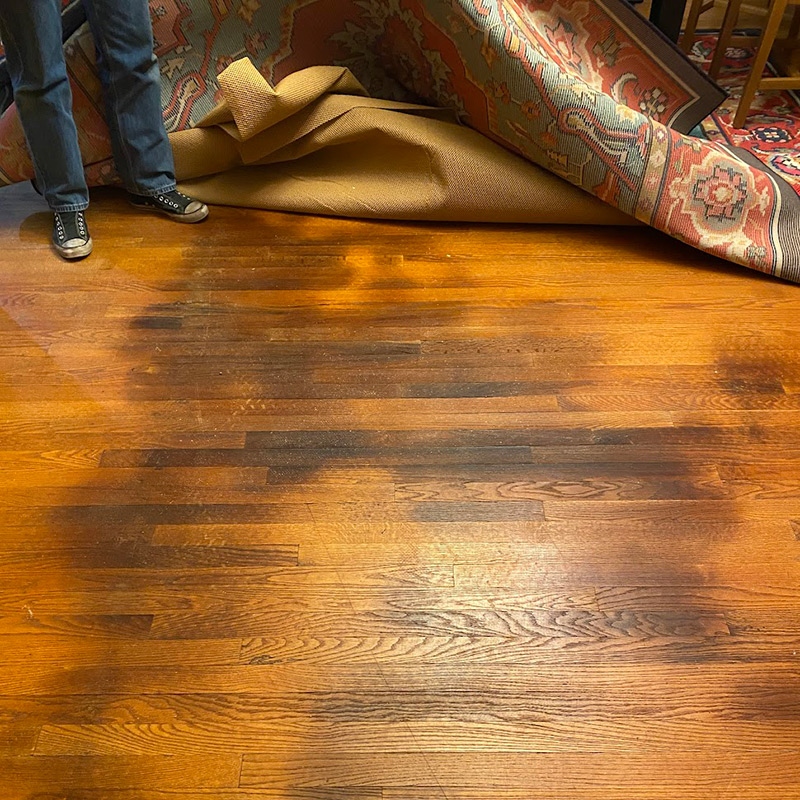 You could get away with it if your pet stain-damaged area is in a corner, against a wall, or a spot where an area rug could go. The damage must be completely dry before sanding and refinishing them. The ugly stain will still be there, but it will be sealed and protected.
Preventative Measures Against Future Pet Stains
You want to avoid any future incidents involving pee marks, urine smell, and soiled areas left behind by pets. So, it's important to do some things to prevent them before they happen. Including house training your pets. Regular walks. And using protective barriers and mats in case there are regular accidents. Last but not least, sealing your hardwood floors with a durable finish is the ultimate way to prevent pet stains from becoming permanent. Different finishes offer various levels of protection. Sealing gaps will help too, as the urine won't be able to seep down between the boards. Prevention is always better than cure when it comes to maintaining your hardwood flooring.
Conclusion
Discovering pet stains on your hardwood floor can be a pain. A royal pain. Especially if you rip up old carpets and you weren't expecting to find them. They look bleh, and they stink. Argh!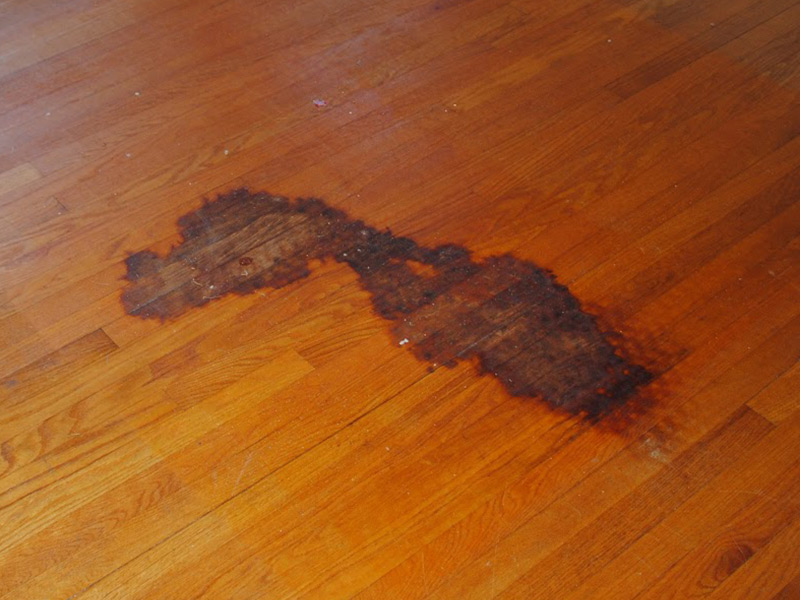 But… they can be fixed. So now you have three ways of dealing with pet stain removal. Decide which option works best for you. Replacing damaged boards. Darkening and covering them with staining. Or leaving them and sanding and refinishing over them for an alternative, cheaper solution.
Dans Custom Hardwood Floors
can completely remove any hint of pet urine damage in your hardwood floors. Restoring your wood flooring to its original beauty. We service Boston, Hingham, Cape Cod, Cohasset, Duxbury, and surrounding South Shore areas. Give us a call at (781) 380-0768 to arrange a free pet stain removal quote.