Refinishing Hardwood Floors in Cohasset, MA
This project was in a brand-new beautiful five-bedroom house where we refinished the hardwood floors in Cohasset, Massachusetts.  It's right on the ocean and the owners have their own private beach too.
The house came with brand new rift sawn white oak floors installed. We sanded, stained and refinished them with a high-end finish system that will help delay the damaging effects of the sunlight streaming in through those huge windows.
With the summer sun shining in through those big windows, the amazing views over the water and a private beach to enjoy, it was very hard to stay inside and concentrate on getting this project done… but we managed.
Hardwood Floor Refinishing Progress…
Below you can see the finished floors in the open kitchen and dining room space…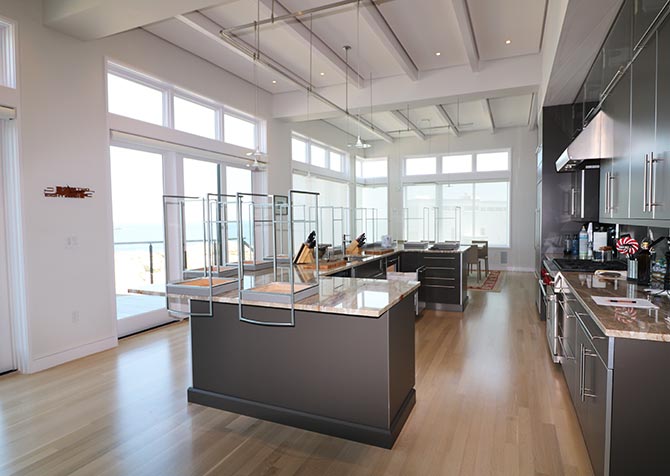 The wood floors are 3 inch wide rift sawn white oak. One of our favorite floors. Rift sawn floors provide a very consistent grain pattern and look great stained as you can see above.
The entire multi-level house had these installed, apart from the bathrooms. All up there was close to 4,800 square feet of wood flooring installed in the kitchen, dining and living rooms, the 5 bedrooms and the home gym and play room.
Below you can see the living area…
After sanding, the floor was water popped and the stain color the homeowners choose was Bona DriFast Stain in white. It gave the floor a very fresh, open and modern feel.
Here is the office (not sure how you could get any work done with that amazing view)…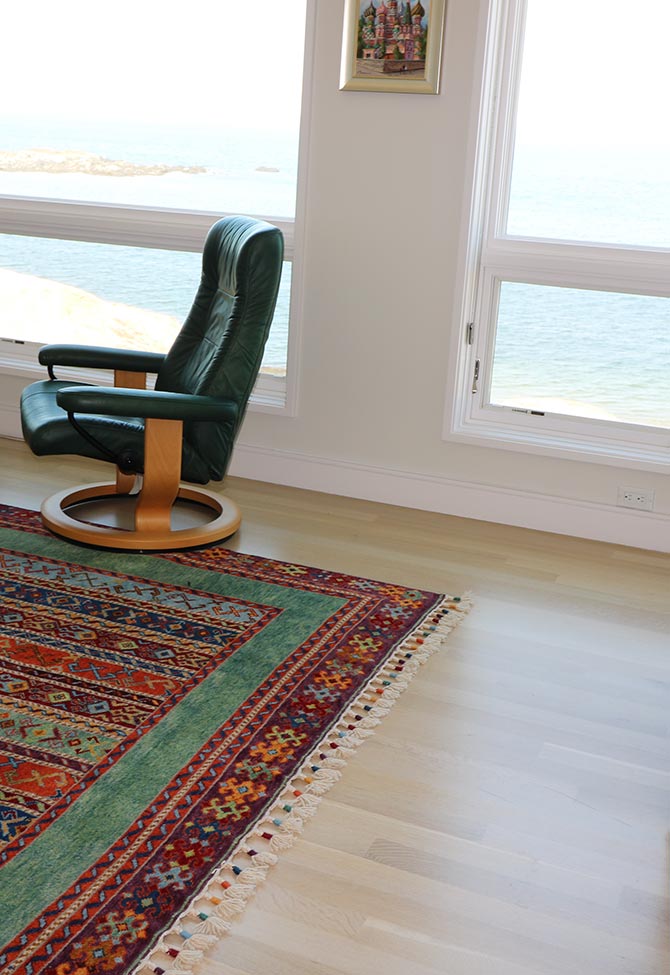 The floor was coated with Bona Traffic HD in a satin sheen. It's a very durable hardwood floor finish with very low VOC levels (about 150 grams) and has excellent scratch and chemical and spill resistance. Especially important when used in kitchen settings like this floor.
One of the other huge benefits to this finish is it has built in UV inhibitors. As you can see this house has a lot of large floor to ceiling windows. They let in a lot of sunlight all throughout the year.
Over time, the ultra-violet light will change the color of wood floors that are constantly exposed like this. Oil based finishes are especially prone to this and will change color very quickly. The Bona Traffic HD product used here will delay this natural occurrence far better than most traditional finish systems.
Below you can see the finish one the floors in one of the 5 bedrooms…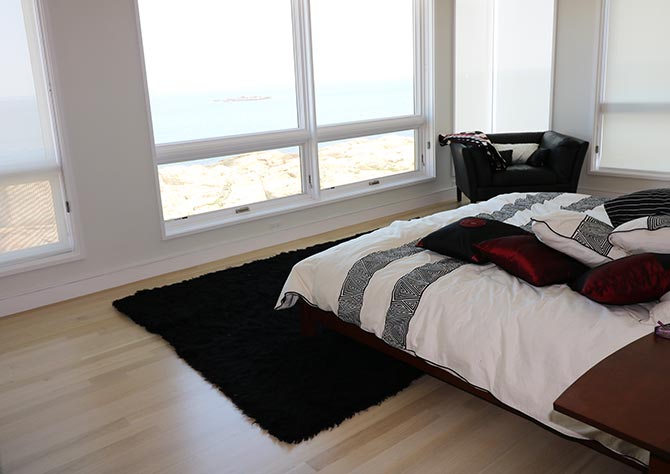 This project was completed within a week. We wished we could have been here longer as it was one of the nicest settings we've had the privilege of working in.
If you have your own Cohasset hardwood floors project you would like a quote on, or in south Boston or South Shore Massachusetts areas, get in touch here for a free quote and we'll help you get the floor of your dreams. We can't promise perfect water views though unfortunately.
Hardwood Floors in Cohasset Project Details:
_______
Type of Flooring:
3" White Oak – Rift Sawn
_______
Finish System Used:
Bona Traffic HD in Satin sheen
_______
Stain Color:
Bona DriFast Stain – White
_______
The team at Dan's flooring is fantastic. Jimmy responded immediately to my inquiry to install new hardwood floors. He came out to view and measure the job exactly when scheduled, provided a very detailed quote, addressed all my concerns. He was really flexible with my schedule. His team was amazing! They showed up exactly as scheduled and worked quickly and carefully. The wood is so well scribed tightly up to the baseboards and trim it looks like it is original to the rooms. The finish is perfect. The floors are beautiful! I will definitely have Jimmy handle all my floors needs.
Hardwood floors in Cohasset Massachusetts homes are very popular. The whole Boston and South Shore of Massachusetts is full of beautiful homes, many featuring wood flooring. Hardwood floors add value and style to your home that last the test of time. They can be a design element for your home and is a great way to add style and elegance to a room. Flooring can have a great return on investment which is another reason hardwood flooring is a great choice for your Cohasset home.
When choosing a company to refinish or install your hardwood flooring in Cohasset Massachusetts Dan's custom hardwood flooring is a great option. Dan's is known for their craftsmanship, expertise and customer service. When choosing a hardwood refinisher there are a lot of options but choosing a craftsman is vital to ensuring the finished product is well done.
Dan's custom hardwood flooring has years of experience in both refinishing and installation. Following strict flooring processes, using the best equipment and best finishing products is vital to a beautiful, finished floor. Dan's can provide you with the custom hardwood floors in Cohasset you are looking for as well as work on your existing floor to refinish, stain or add on to your flooring.