Hardwood Floors in Kitchens?
Should you install hardwood floors in kitchens? Yes. No. Maybe? It's an important decision. For a couple of reasons:
You'll be spending a lot of time in your kitchen. You want them to look great for a long time.
You'll also be making a mess in there. So they need to be durable and easy to maintain and clean.
Let's delve into the top six issues of installing hardwood floors in your kitchen.
1 - Aesthetics
This one is first because it's usually the biggest draw to what type of kitchen flooring you'll use—how it looks.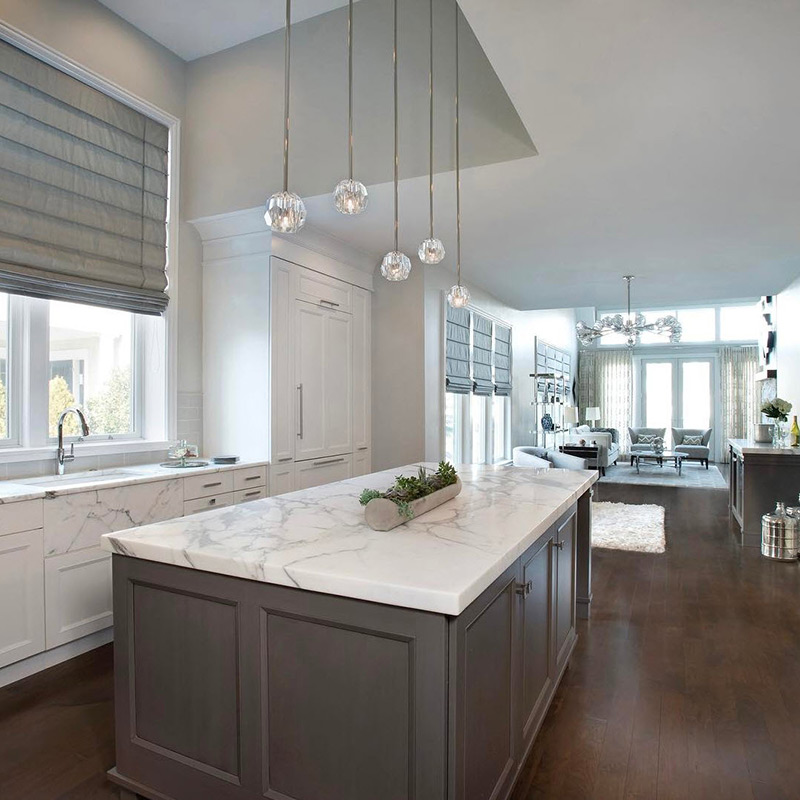 Let's face it. If there's a perfect floor for a kitchen, but you don't love the look of it, you're probably not going to install it. Right? Wood flooring has a natural beauty many alternative options can't compete with. All the various wood species, wood grain patterns, and natural colors. The randomness of plank lengths and choice of widths available. These are features man-made products can't compete with. Then add the sheer number of options available to customize a wood floor. Multiple finish choices exist. From clear two-component waterbased coatings to plain and colored hard wax oils. You have many sheen options from high gloss down to ultra-matte. Plus unlimited stain colors to pick from. Do you prefer a dark espresso stain or a light whitewash effect? A checkered pattern or two-tone colored oils layered on each other? Your only limit is your imagination.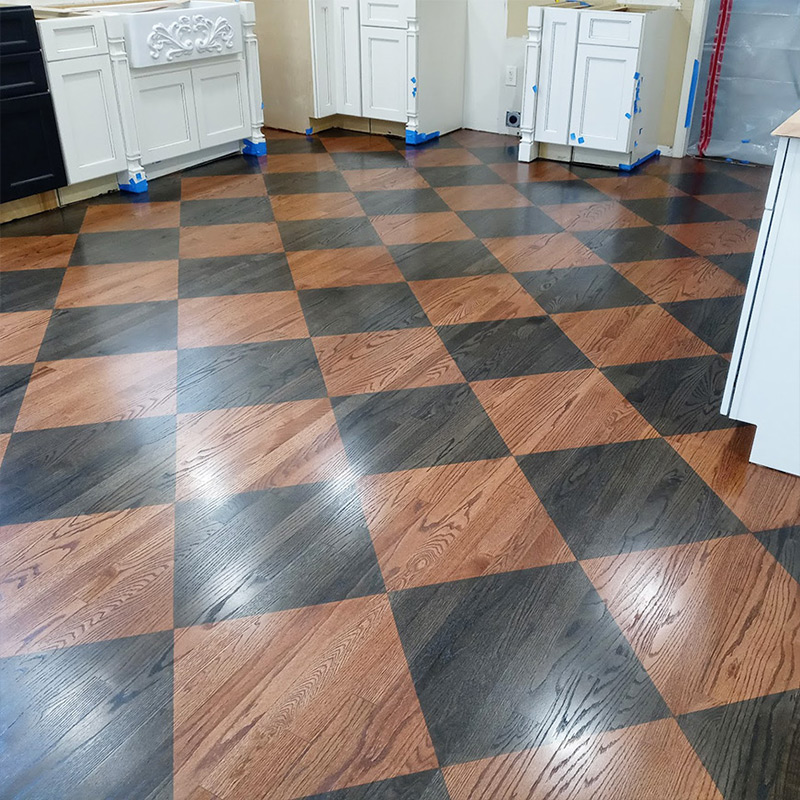 All these options mean you can completely customize your kitchen floor to match your desired style. Something only wood flooring can offer.
2 - Comfort and Livability
One advantage of using hardwood flooring in the kitchen is its cushioning and give. And what we'll call 'bounce-ability.' Wood floors are far easier on your knees than other hard surface flooring. When you're in the middle of that hours-long baking spree, that's going to matter. And when you drop a glass or plate, because we will, it has a far less chance of shattering due to the bounce factor.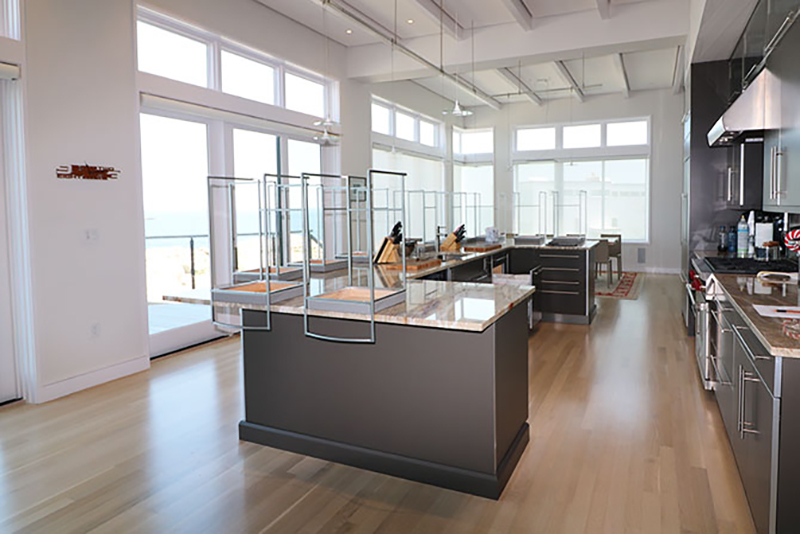 3 - Durability
No use installing a floor in your kitchen if it can't face daily wear and tear. You need to make two smart choices to compete with ceramic tiles, luxury vinyl planks, and linoleum. Those two decisions?
The type of wood
The finish coating that goes on top
Type of Wood
Choosing a suitable wood species makes a lot of difference in how durable your floor will be. A soft wood will easily scratch and dent. Not ideal for a busy kitchen. Hardwoods are much better options. The Janka Hardness Scale is useful for comparing different wood species' durability. The higher the score, the more resistant it is to indentations, abrasions, and wear. For example:
Brazilian Walnut (Ipe) has a Janka rating of 3684.
Santos Mahogany boasts a Janka rating of 2200.
Oak is often used in traditional kitchen floors. It has a Janka rating between 1210-1360, depending on whether it's red or white oak.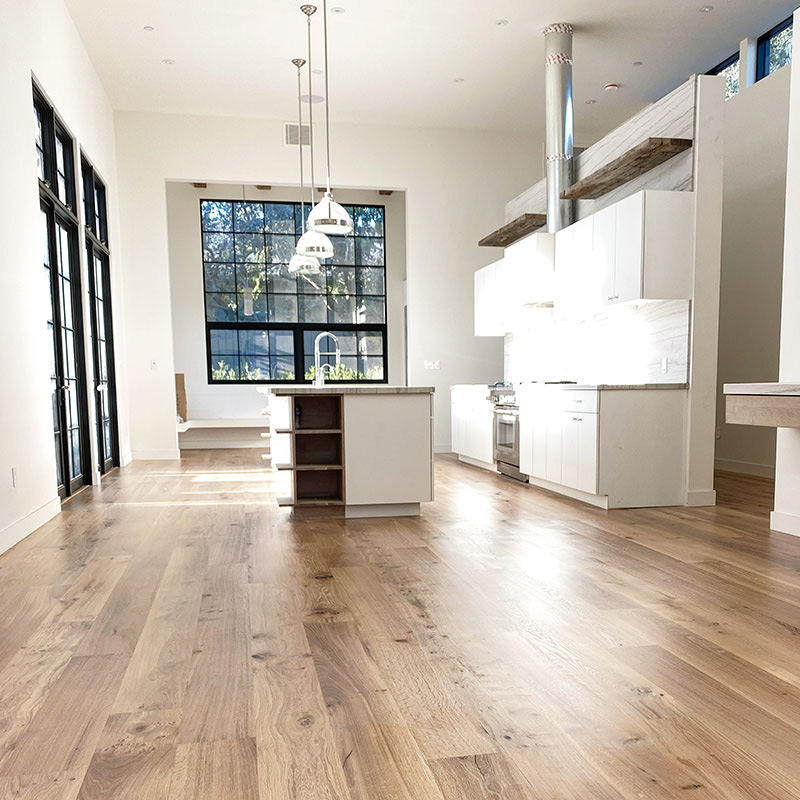 The 
National Wood Flooring Association
 provides valuable resources on various wood species. Their insight can help you make an informed decision.
Types of Protective Finishes
Finishes and coatings play a massive part in preserving the lifespan of your kitchen wood floor.
Two Component Waterbased Polyurethane: Extremely durable. Moisture-resistant. Scratch resistant. Crystal clear, which is excellent over stains as it won't alter the color. This is your best choice for a surface finish in a kitchen.
Oil-Based Polyurethane: Excellent protection but is not as durable as the finish above. It has high VOCs and an amber tint which alters stain colors.
Hard Wax Oils: Penetrates deep into the wood fibers vs. laying on the surface of the wood. Much easier to spot repair those mishaps. Comes in 100's of color choices.
Your flooring professional can help you choose the best option for your kitchen floor.
4 - Moisture Issues
Water and wood don't mix. When hardwood floors get exposed to moisture, they can expand—leading to swelling and warping of the planks over time. This is their greatest weakness. To minimize this risk:
Ensure all plumbing is connected correctly and adequately sealed.
Seal the edges of your flooring around sinks and dishwashers too.
As soon as there is a spill, wipe it up.
This is where a high-quality finish will come into play as well. The better the finish, the longer water sits on top and protects the wood underneath.
5 - Cleaning and Maintenance
Ease of cleaning is essential because if it's a pain to clean, you will do it less often. Which means more chance of wear, abrasion, and damage. Thankfully wood floors are super easy to look after.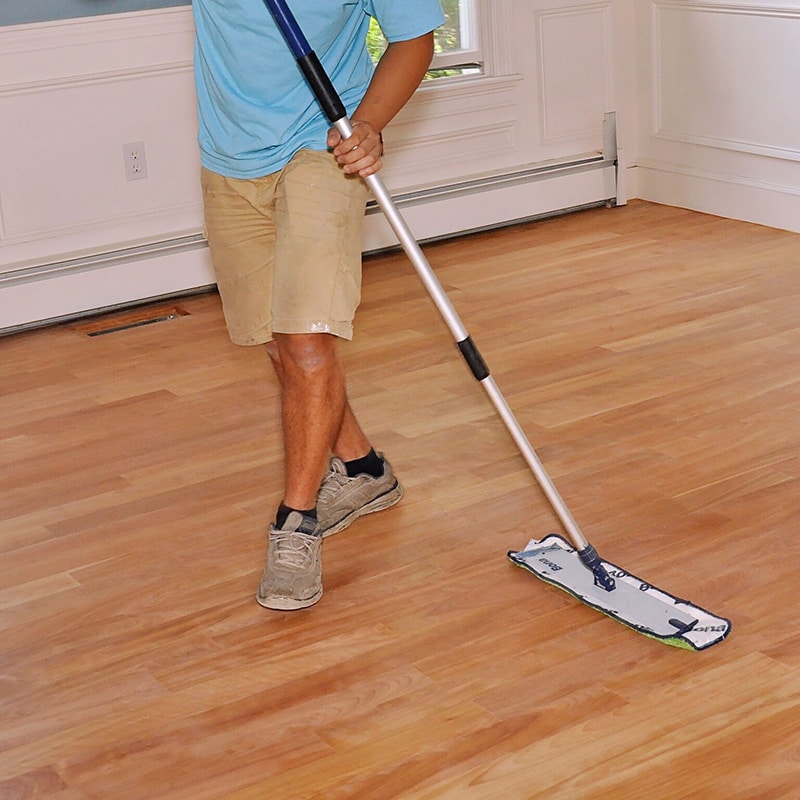 Sweep or vacuum regularly: Dust and debris will abrade the surface, so sweep or vacuum often with a soft-bristle attachment.
Clean up spills immediately: Accidents happen - especially in busy kitchens. When spills occur, take care of them quickly with a soft cloth or paper towel.
Use appropriate cleaning products: Clean your kitchen hardwood floors using a damp (not wet) mop or microfiber cloth. Use a recommended cleaning solution for wood flooring.
Use protective mats: Place water-absorbing mats near sinks. These mats can help protect your wood floors from potential water damage. They'll help with abrasion too. Just make sure they are clean underneath.
Maintain proper indoor humidity: Keep your indoor relative humidity level between 30% - 50%.
Following these maintenance tips will help keep your floor looking great for years.
6 - Repairability
The ability to repair is one of the most significant benefits of wood flooring. You can sand down and refinish wood if you get scratches, dents, or wear.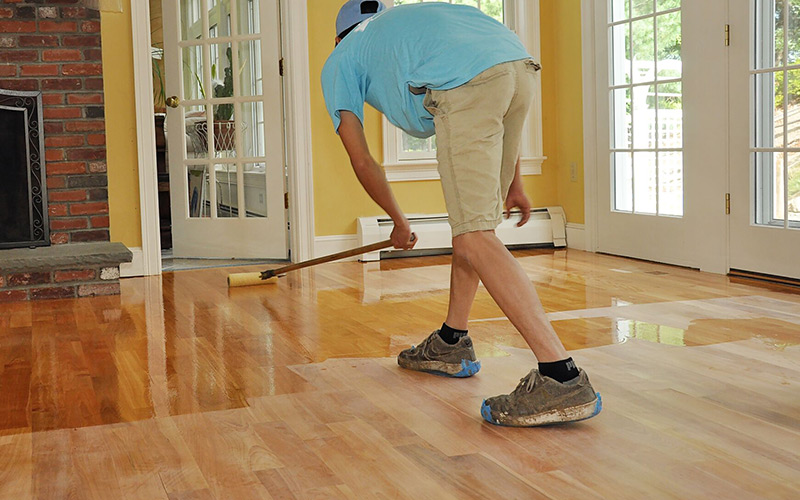 Applying a fresh coat of finish over freshly sanded hardwood can make your floors look brand new again. That saves a lot of money in the long run because the floor won't need replacing. There are wood floors in kitchens that are hundreds of years old in Europe!
Comparison to Other Flooring
Ceramic Tile Flooring in Kitchens
Pros:
They're durable and long-lasting: Ceramic tiles are known for their durability. This makes them an excellent choice for kitchens with heavy foot traffic.
They're water-resistant: Ceramic tiles won't warp or swell when exposed to moisture. This makes them ideal for areas prone to spills and mishaps.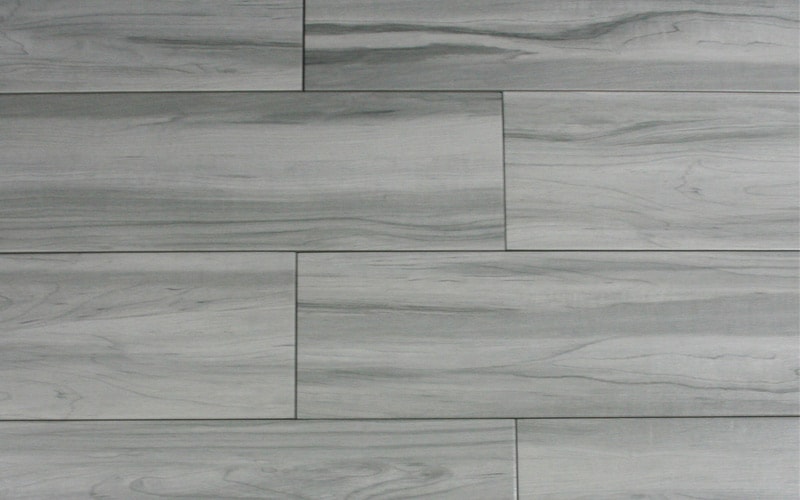 Cons:
Will be cold underfoot: Compared to wood flooring, they won't feel warm to walk on.
A much harder surface: While ceramic tiles are more durable than wood, they provide less cushioning. This makes them uncomfortable to stand on them for extended periods. Any dropped glass or plates will most likely smash to pieces as well.
The dreaded grout maintenance: Grout lines between tiles need regular cleaning and sealing. Otherwise, they look ugh over time.
Luxury Vinyl Plank Flooring in Kitchens
Pros:
100% waterproof: Luxury vinyl plank flooring is completely waterproof. Making it an excellent choice for kitchens where those "whoops," spills, and moisture issues are common.
Their durability: LVT floors have really good scratch and dent resistance. They can take the heavy use a well-trafficked kitchen will dish out.
Very low maintenance: Cleaning luxury vinyl plank floors is easy. Regular sweeping or vacuuming followed by damp mopping. Not much more is needed.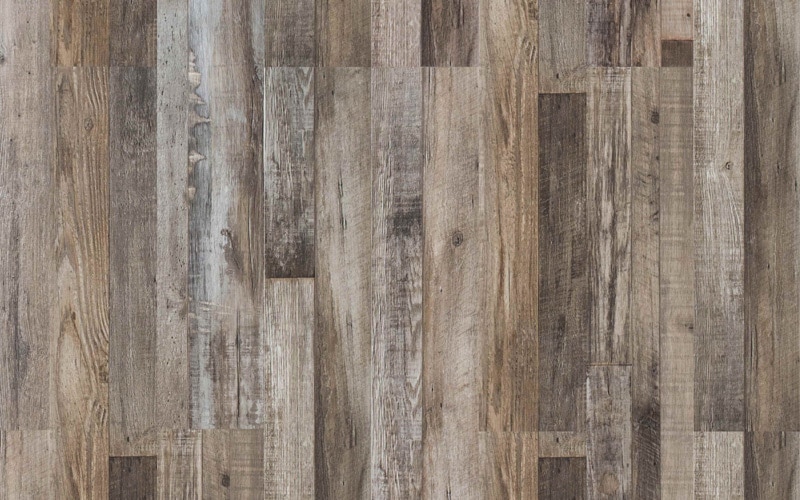 Cons:
Their appearance: This is the biggest issue with LVT. Most luxury vinyl plank floors look very different from actual wood flooring. Even with the advancement in printing technology. They also have a more clinical and 'repeating pattern' look for lack of better wording. This is because the planks all come in the exact same standard length, usually 36" or 48" long. Similar to cheap laminate flooring. Real hardwood flooring has a wide variety of plank lengths, giving it natural variety, randomness, and beauty.
Repairability: Damaged planks can be challenging to fix and replace. And they can't be refinished.
FAQs
Hardwood Floors in the Kitchen: Yay or Nay?
Yay. Hardwood floors are a great choice for kitchens. They're beautiful, durable, comfortable, and can be refinished multiple times. But they need regular cleaning and prompt spill clean-up to prevent moisture damage. If you need a 100% water-resistant solution, ceramic tile or luxury vinyl plank flooring will be better options.
What is the Best Wood Flooring for Kitchens?
That's a tough one to answer. Basically, it will come down to your personal preferences, needs, and budget. Woods like oak or maple are great all-around choices. Oak is the best option if you want a specific stain color. It takes stains really well. Exotic woods like Brazilian Cherry offer increased durability but come at a higher price.
What are the downsides of having wood flooring in your kitchen?
Potential swelling or warping from moisture exposure.
Possibility of scratches and dents from dropped items.
More maintenance requirements compared to other materials.
Possible higher costs depending on the species of wood you choose to install.
How do you care for wood floors in your kitchen?
Make sure you always have soft cloths or paper towels on hand to clean up any spills and tumbles asap.
Stay on top of regular daily maintenance like sweeping or vacuuming with a soft-head vacuum cleaner.
Make sure you put protective pads under all furniture legs to prevent scratches.
Here are some additional tips for cleaning and maintaining hardwood floors in your kitchen and the rest of your home.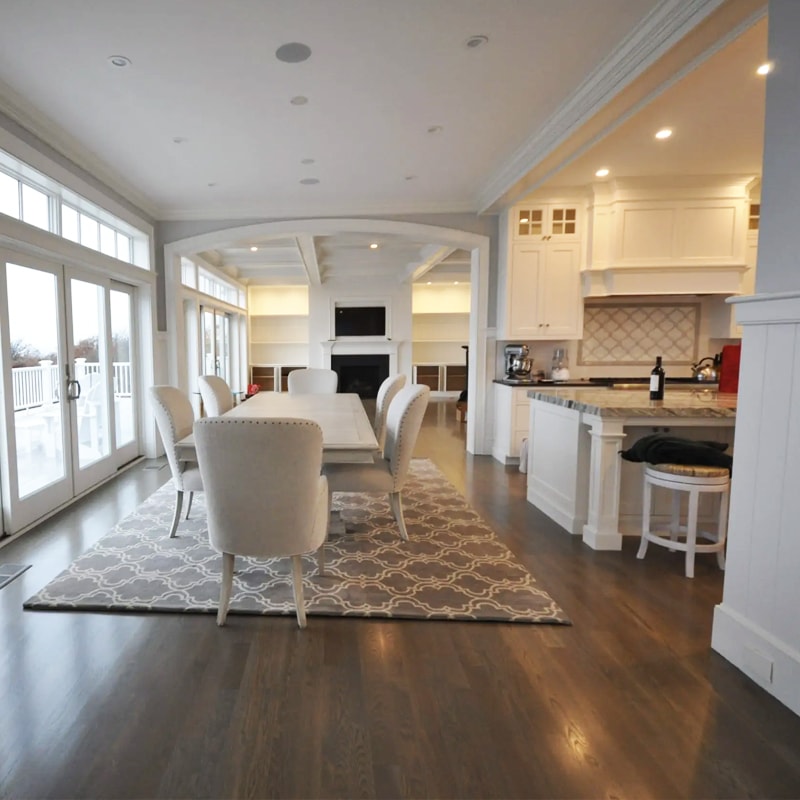 Conclusion
So... to sum up, wood flooring in kitchens is a big yes for many reasons. They look great, with tons of customizable stain colors, finishes, and sheens available. Good durability against daily foot traffic. Much softer to walk and work on than other hard-surface flooring options. Easy clean-up and maintenance. The ability to refinish worn surfaces multiple times. Just keep a few things in mind: Moisture concerns are essential to stay on top of. That means regular maintenance and quick clean-ups with any spills. And invest in the best finish you can afford. Do those, and you'll have a great-looking and long-lasting kitchen wood floor.