DUSTLESS HARDWOOD REFINISHING
Refinish your floors for a beautiful and refreshed look. Hardwood refinishing is a great way to bring new life to old floors by returning them to their original look and finish. With our NWFA certified crews you can rest assured that we will provide a great quality finished product. Our team has more than 150 years of experience with both hardwood installation and refinishing. The combination of your experienced team and top quality equipment we can provide you with a beautiful finished floor. The new technology in equipment and finish can help create a better looking and more durable floor for your family.
BONA CERTIFIED
High quality finishes- Bona finishes dry 3-4 times faster than other products which means you won't have to move out during a refinishing project. The faster dry time does not take away from the durability or beauty.
No dust, cleaner air- Bona's dust containment system cuts down on dust by 99.8%. The dust left in the air is very minimal and makes the air safer and reduces clean up greatly.
Homeowners Get Lifetime Support- Bona will stand behind their products for the life of the floor. Both products and services have the support guarantee for maintaining their floors for a lifetime.
Trained, Trusted and Insured- Every BCC crew is required to have proper insurance, be trained by Bona and ensure every project is done properly.
On Your Floor Faster– The odor in bona products is reduced to help get you back in your home quicker without needing a respirator. Homeowners can stay in the home during the entire process and be back on the floor in stocking feet in just a few hours after the coating is added.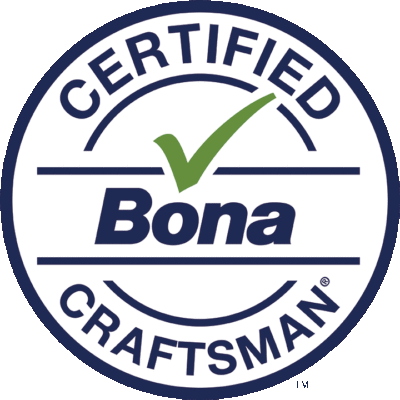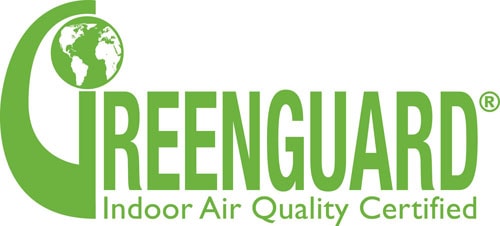 GREEN FINISHES
One area that has changed a lot in the last 20 years is the finishes. Water-based flooring finishes are durable and have less downsides compared to other finish products. High quality water-based products and U.V. products have reduced odors and V.O.C.s. Some V.O.C.s are very harmful to your health and can some floor finishes take 30-60 days to cure and finish gassing-off. UV products can be cured in just two hours and many water-based products are finished gassing-off in 36 hours. These products are much kinder health wise but still last 5-8 years before needing a maintenance coat.
Had a fantastic wood floor and stair tread repair and refinishing project. Jimmy (project manager) was great to work with and the crew did a great job in very quick time. Highly recommend.
We are very pleased with our finished wood floors. Jimmy was wonderful about answering all our questions and we are very satisfied.
Jimmy and his crew were absolutely amazing. The job was completed on time (actually a little before schedule) and my 100+ year old pine floors look brand new. If you are looking for a professional, trustworthy, and knowledgeable company for a flooring project these are your guys. i solely and highly recommend their services.
Jimmy and crew at Dan's Flooring were great. They were able to fit us in at the last minute, and did an amazing job on our floors. Everyone who has seen them comments how great they came out. The crew was quick, polite and left the house spotless. We are very satisfied with their work and recommend them highly!
Just had new hardwood put in my antique home that did not have a flat surface anywhere due to the age of the home. The work they did was incredible and the finish product is outstanding!! From start to finish working with Jimmy and his crew was a pleasure. I highly recommend using Dan's Custom Hardwood Floor.
They did a great job re-finishing our floors! They were in rough shape and now they look like new. They were efficient and were able to fit us in last minute which was a huge help. They were professional and friendly to work with as well. I highly recommend using Dan's Custom Hardwood!
Why Choose a Certified Craftsman!
Environmentally Friendly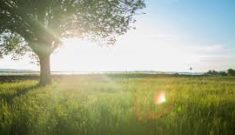 • GREENGUARD Certified products
• Indoor Air Quality Certified®
• Environmentally safe ingredients
You Can Trust in Bona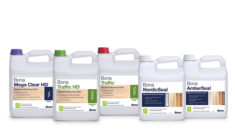 • Worldwide brand, a proven "system"
of quality products
• Modern and effective dust
containment system
• Floor care education and products
Your Floors are in Good Hands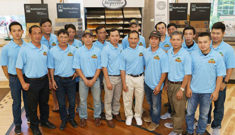 • Trained on all Bona product systems
• Best Practices – no shortcuts
• Insured, licensed businesses
• Lifetime Support