Hardwood Floor Installation and Refinishing in Braintree, MA
This was a very special project for us. Our client was a huge wood enthusiast and this was his dream home he was building in Braintree, Massachusetts. It's one of our favorite hardwood floor installation and refinishing projects. We came in and basically were given free rein to do anything we liked with his hardwood floor… within budget of course.
He wanted a fully custom, tricked out floor that would be completely original and unique. Not often do you get a project to work on like this so we were all very excited.
Our creative juices flowing, we spent hours and hours designing the custom floors and borders. In the end, we used 5 different species of wood in 3 different milling types, with 4 different install designs.
You can see the results below…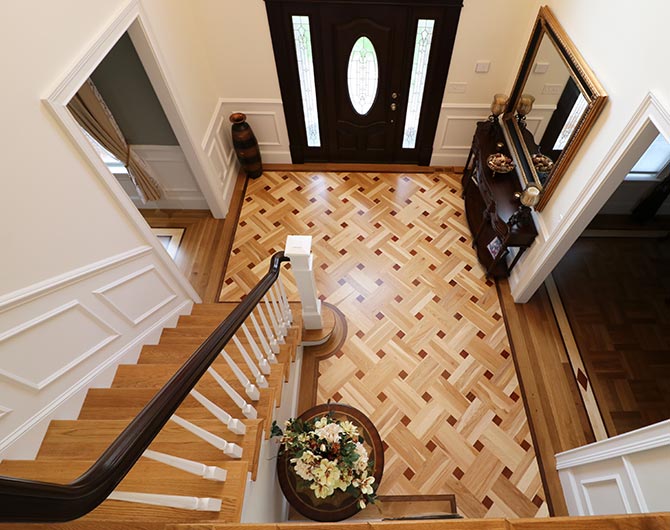 The house was 3 stories with the dining, living and family rooms, along with the kitchen and entrance on the main level. The other 2 levels had 5 bedrooms and the top level had a large rumpus room. All up there was just over 5,000 square feet of hardwood flooring to install, sand, stain and finish.
Above you can see the finished entrance. It's a basket-weave design made from Hickory and Brazilian Cherry. It's not a common design and took a lot of effort to get it perfect.
Hardwood Floor Installation and Refinishing Progress…
Below are the photos showing the steps involved in completing this wood flooring project.
You can see the main section installed below as we were getting ready to do the White Oak and Walnut border…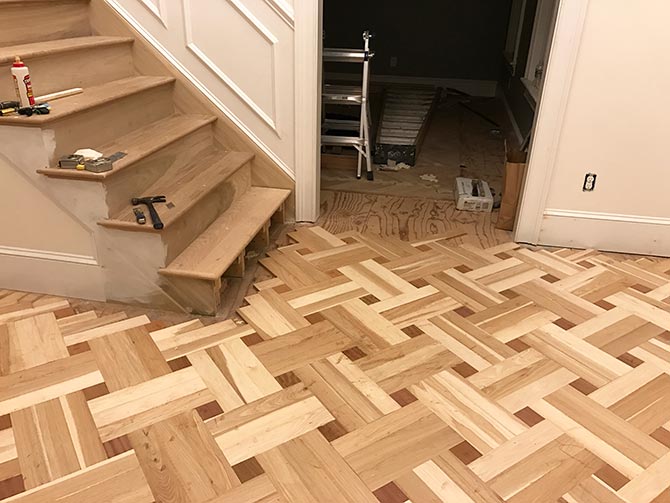 Here is the 3rd floor play room being installed. First the field is installed on 45 degree angles…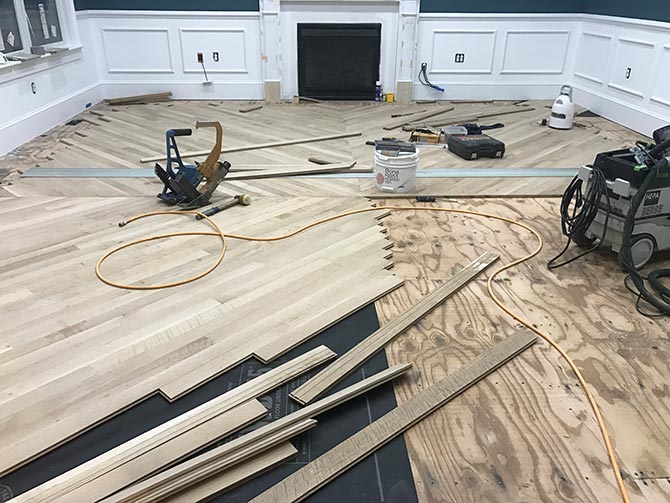 This is one of the pieces equipment we use for a perfect install. The Fein saw runs in the grooves of the saw track and ensures the joints are perfect. This same piece of equipment is used for all the borders you see here too.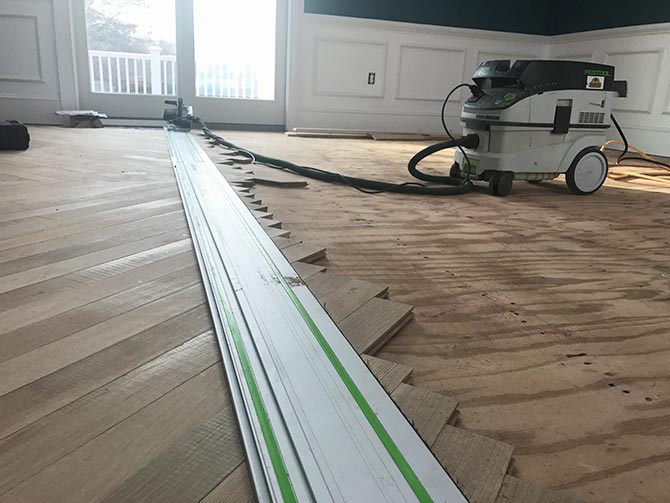 The photo below shows the hundreds of hand cut Maple, Oak, Brazilian Cherry and Walnut pieces. Once they're cut, it's just a matter of putting the pattern together…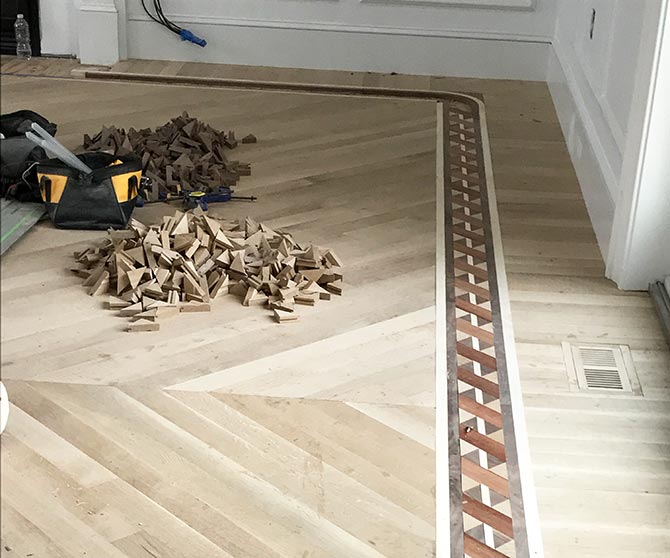 Border almost done, just the corner to go. Slow and tedious work, but very rewarding…
The photo below is back downstairs in the dining room. We're staining the White Oak so it makes the Walnut and Maple border really pop…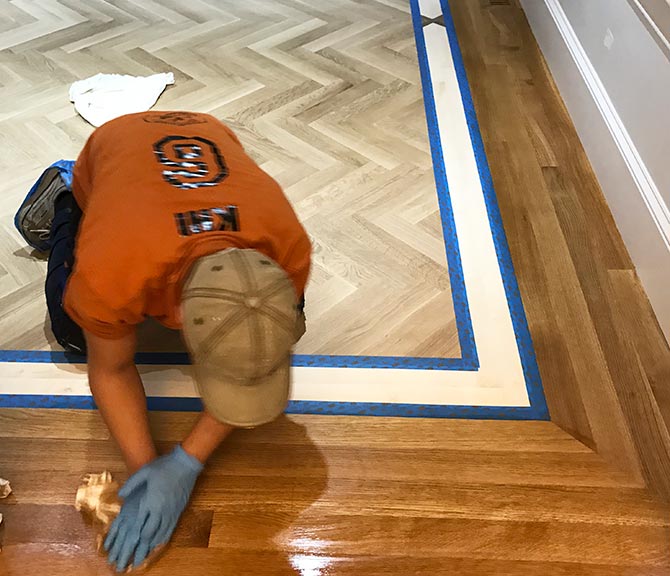 Here's the entrance and staircase hardwood floor installation and refinishing all done. You can see through to the family room too…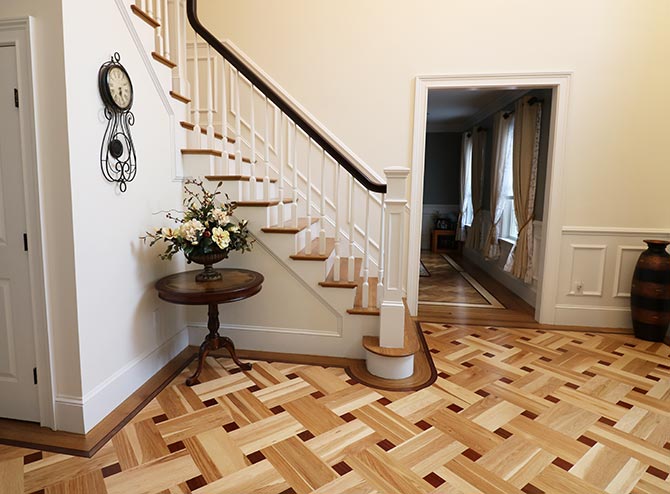 Upstairs play room done after hundreds of hours of hardwood floor installation and refinishing work…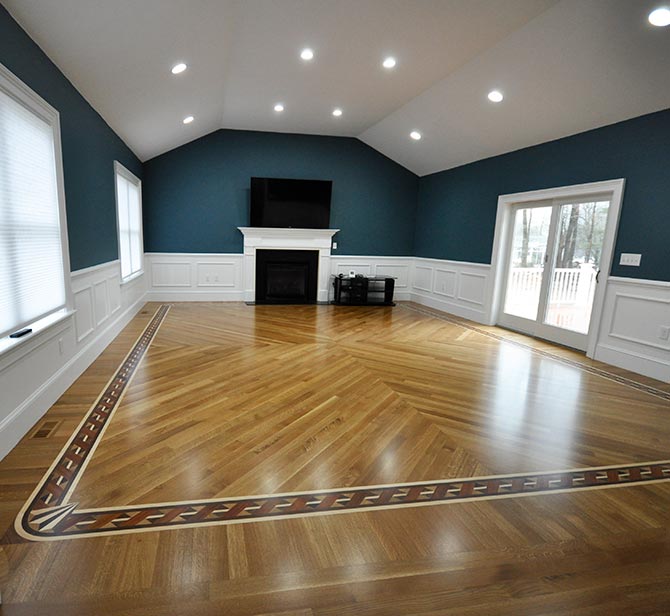 Family room completed. Here you can see the custom herringbone floor with the Walnut and Maple border…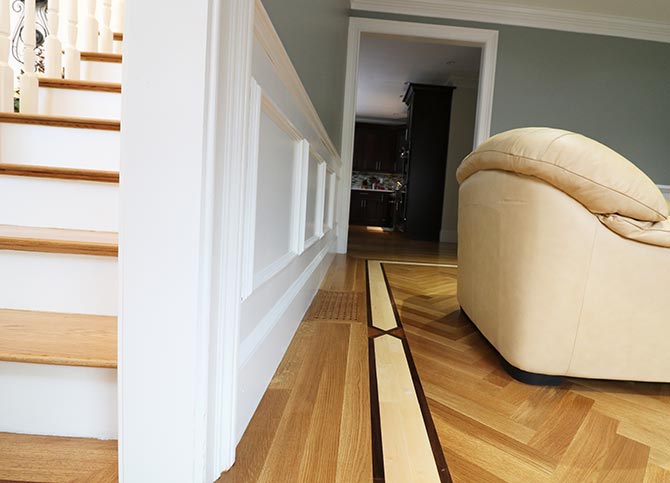 This is the dining room finished. Floor design is different again from any of the other rooms in the house…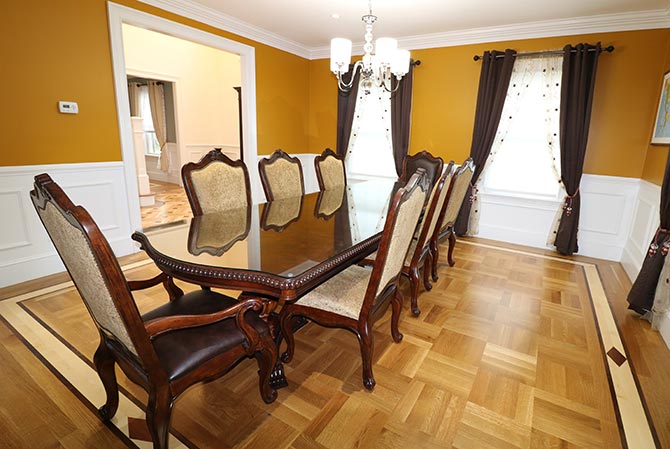 And here's a close-up of the finished play room border with the hundreds of hand-cut pieces…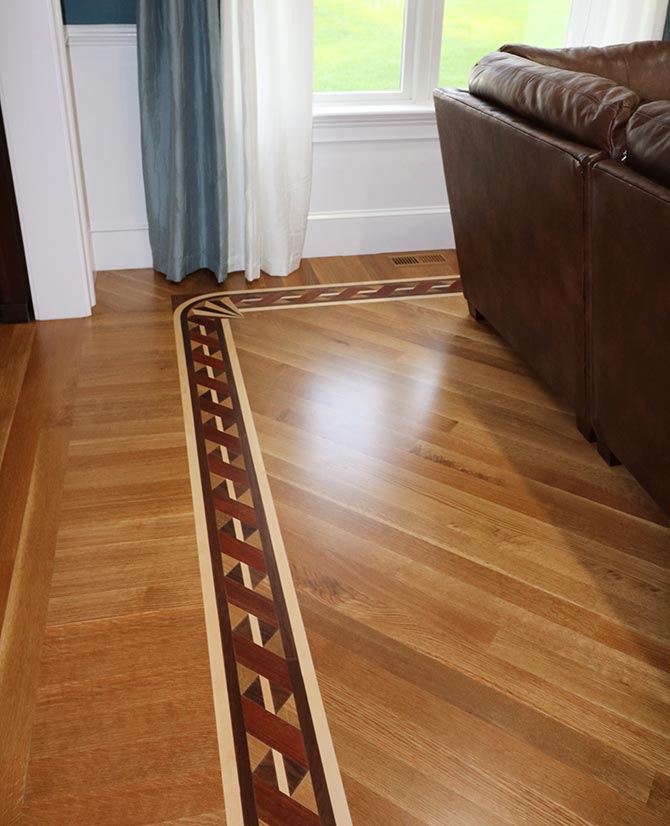 Below is one of the 5 bedrooms. The floors were White oak and stained Golden Oak. No fancy borders or install patterns here but they still look great…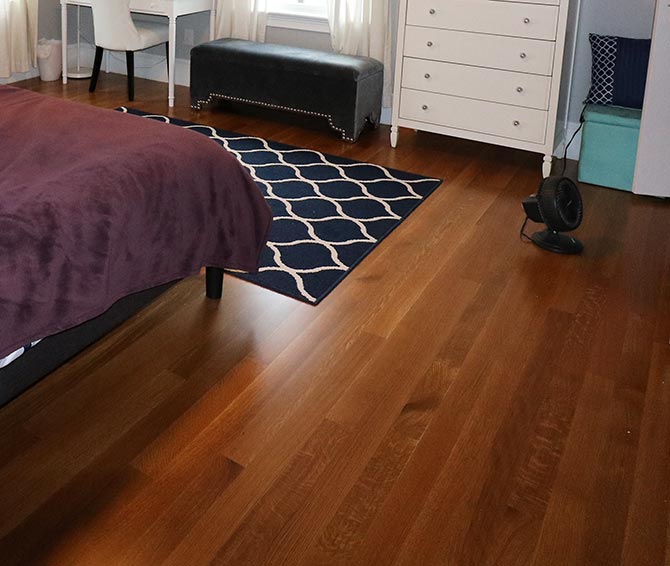 And the best view in the house… the grand entrance featuring the basket-weave Hickory and Brazilian Cherry floor with the Walnut and White Oak border. How would you like to walk into this entrance every time you came home…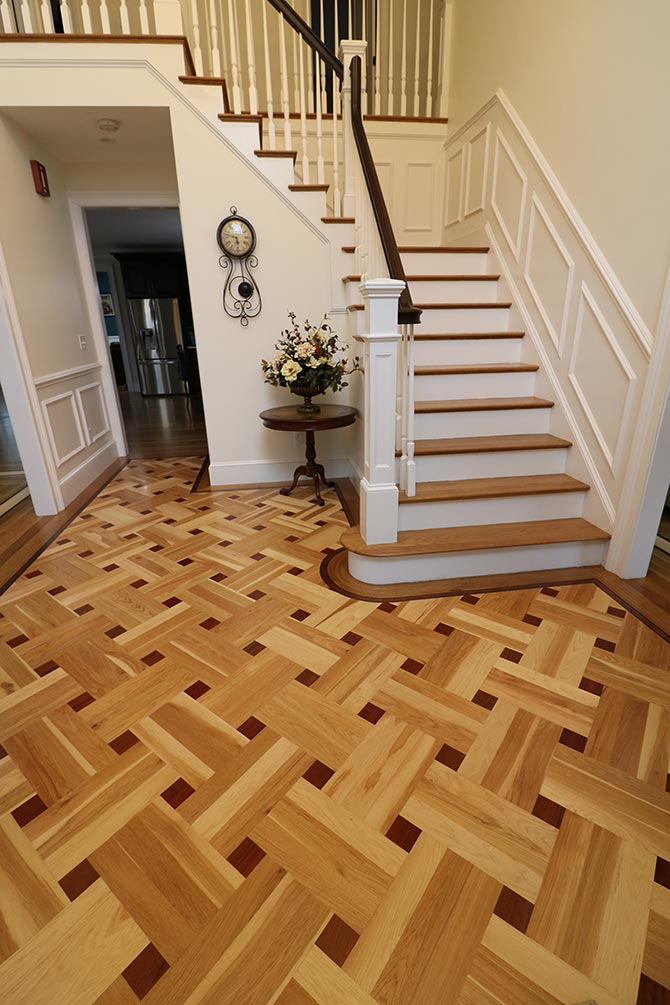 We finished the floor with Bona Traffic HD in a satin sheen. This is one of the most durable hardwood floor finish systems on the market. It has very low VOC levels (only 150 grams per litre), dries very fast and has excellent scratch and chemical resistance. Perfect for protecting such a special floor like this one.
All up this project took 6 guys 3 weeks to complete. It was a lot of work but really fun to do. Our client was super happy with the way it turned out.
If you would like hardwood floor installation and refinishing in Braintree, MA or other south Boston or South Shore Massachusetts areas, get in touch here for a free quote.
I can not say enough about how professional and perfect Jimmy and his team were. When Jimmy came to assess my floors they were 16 years well worn, after 4 dogs and a lot of human use. I was considering just tearing them up but Jimmy was honest, open and professional giving me his experience and opinion on the steps he would take to bring them back to life. I have to say that the transformation of my floors was amazing. They look brand new – if I had not known better I would say they are brand new! Everyday I still look at them and cannot believe how beautiful they cam out! I took before and after pictures and it looks like a completely different house. The team of Dan's Custom Hardwood Flooring are amazing! They told care to cover everything completely with plastic so no dust would sneak through. They were all work with their main focus being customer satisfaction and perfection. Everyday I was given an update from the team. I would highly recommend Dan's Hard Wood Flooring to anyone who wants the job done right and in a timely manner with a professional team. This company is perfection at its finest! THANK YOU JIMMY & TEAM!!!!!