How to Choose Between Hardwood Floor Stain Colors
Selecting a stain color for your wood floors is an important and challenging decision. Important because once you make your final decision and the stain goes down, you're stuck with it unless you re-sand the floor and start from scratch again. Challenging because there are endless hardwood floor stain colors, and it's easy to feel overwhelmed.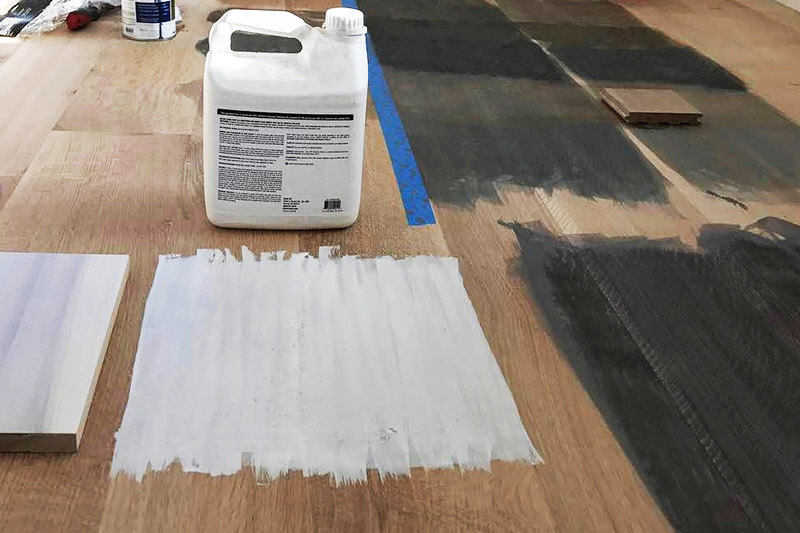 In this blog post, we'll cover the basics of hardwood floor stains, explore some ideas for choosing the perfect shade, and discuss the process of water popping before staining so you get beautiful, rich, consistent results with every project! We'll also answer all the most common questions about hardwood floor stain colors.
Hardwood Floor Stain Colors - The Basics
The first decision you will need to make is whether to stain your floors or not. Not every hardwood floor has to have color on it to look good. Many hardwood floors in Boston and the South Shore of Massachusetts look great in their natural state, including red and white oak floors, if sanded and refinished correctly.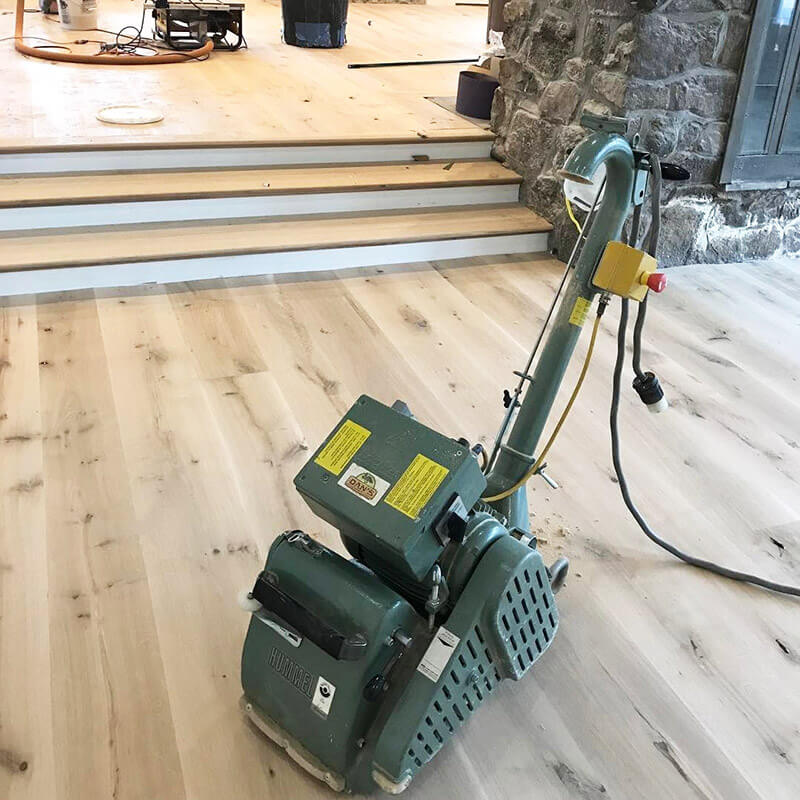 Some floors like this wide plank white oak floor above you may not want to stain. You may also want to keep them unstained if you have naturally light wood, such as hickory or maple, or dark wood, like walnut or mahogany. It's important to note that staining a floor is a separate process from applying coats of surface finishes like polyurethane or water-based finish. Finishes go on top of the floor and give it a protective coating. The stain goes between the wood and the finish coats, and its sole purpose is to add color. There are colored finishes like Rubio Monocoat, Pallman Magic Oil, and Ciranova Hardwaxoil, which don't need stains to be applied for the floor to change color. But these are in a separate finish category. Then there are specialty finishes like Bona Nordic Seal and Pallman Pall-X Whiteseal that will lighten/whiten the color of your oak floor without the need for staining. This article is about "staining" and not about tinted or colored finish systems which will be another blog post.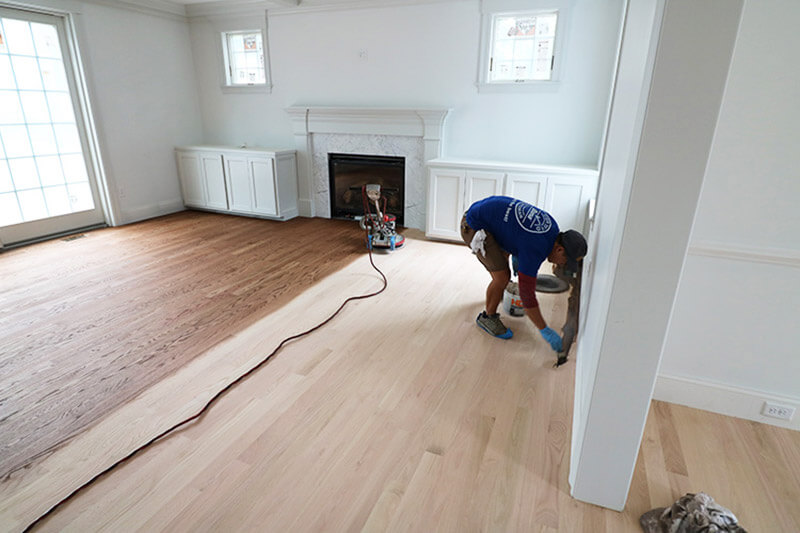 Let's get into it.
First Important Question: What Overall Shade Do You Want for Your Hardwood Floors?
Selecting the correct hardwood floor stain color group is the first important step in choosing the perfect color for your floors. You want to ensure the general shade complements the rest of your home's interior design scheme before honing in on the exact color choice. There are several basic categories of stain shades.
Dark Colors:
 Dark wood floors stand out as a bold statement piece. These deep, rich tones create an elegant and dramatic look in any room while still allowing the natural wood grain to show. They also work well with both traditional and modern décor styles. However, it's important to note that these darker colors may require more maintenance than lighter ones since they tend to show dirt and scratches more easily.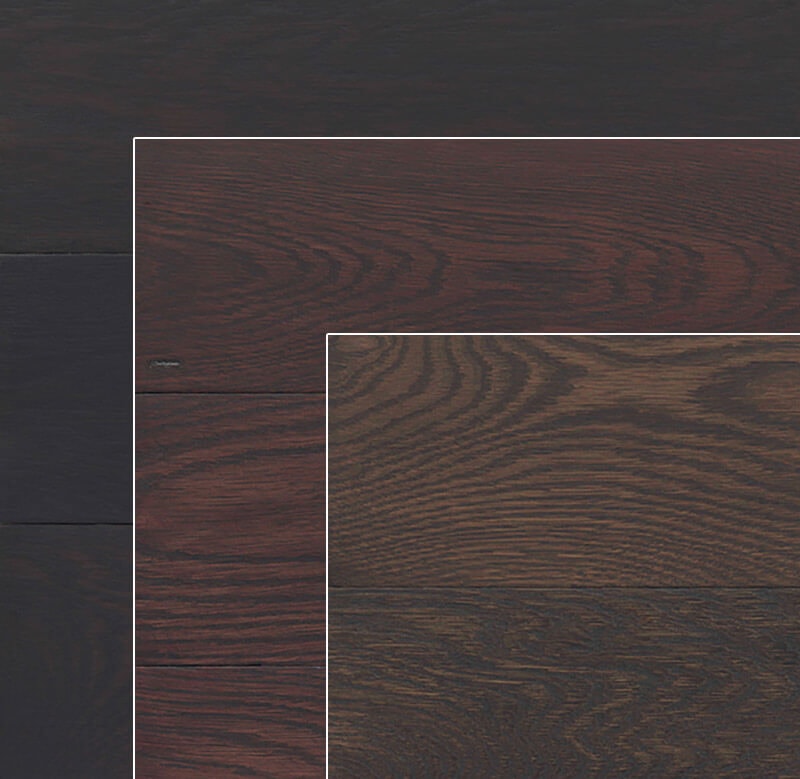 Stains such as Ebony, True Black or Royal Mahogany are some of the most popular choices for staining hardwood floors a dark color.
Light Colors:
 Light-colored stains provide an airy open feel to a room. They offer subtle modern tones without being too overwhelming. This stain category works well with other light design elements like white walls or light furniture. In addition, these lighter shades create a more casual atmosphere in living rooms or bedrooms where you want to keep things light and inviting.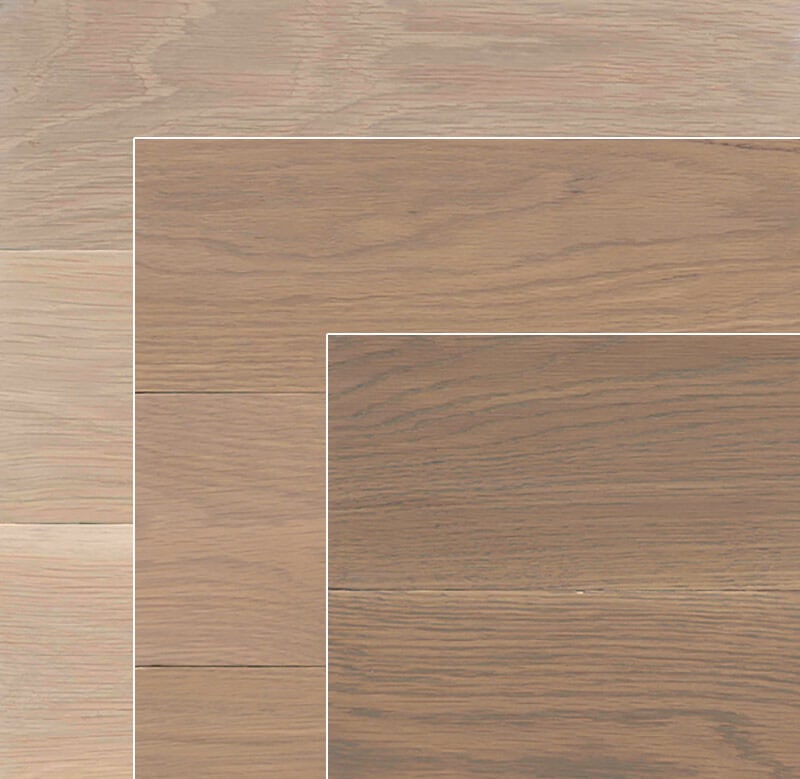 Some ideal light-colored stains are Silvered Grey, Country White, and Rustic Beige.
Mid-Toned Colors:
 This category is one of the most popular, especially for hardwood floor refinishing in Boston and the South Shore of Massachusetts areas like Hingham, Braintree, and Cohasset. They're among the most versatile colors that blend in with many decors and decorating styles. This selection of colors could be the perfect compromise if you're unsure whether to go dark or light. They balance light and dark shades without being too overpowering in either direction.  They will look great regardless of ever-changing flooring trends. In addition, they go well with most styles of furniture, cabinetry and wall colors. This group of stain colors work well with almost any decorating scheme, from traditional to modern styles – making them highly versatile when it comes time for redecorating!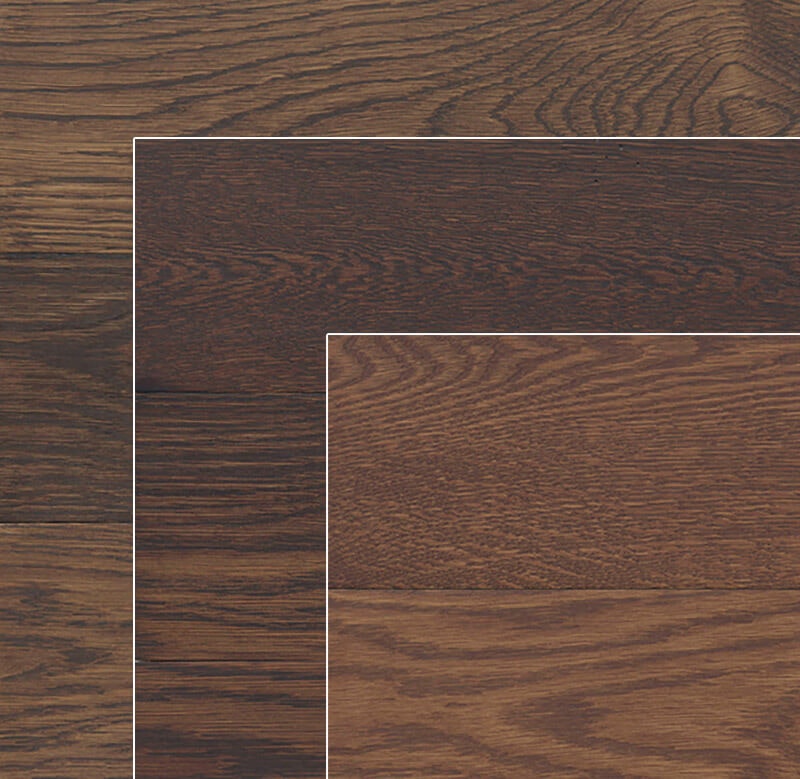 Popular hardwood floor stain colors in this range are Jacobean, Special Walnut, and Antique Brown.
Neutral Colors:
 Natural or neutral-colored stains allow you to preserve the original color of your wood without changing it too much. This is ideal if you want to maintain its unique characteristics but still add subtle color variation throughout the room's design scheme. Natural colored stains will not darken or lighten wood flooring up too much, so they're perfect for those who want to avoid dramatic changes in their floor's appearance.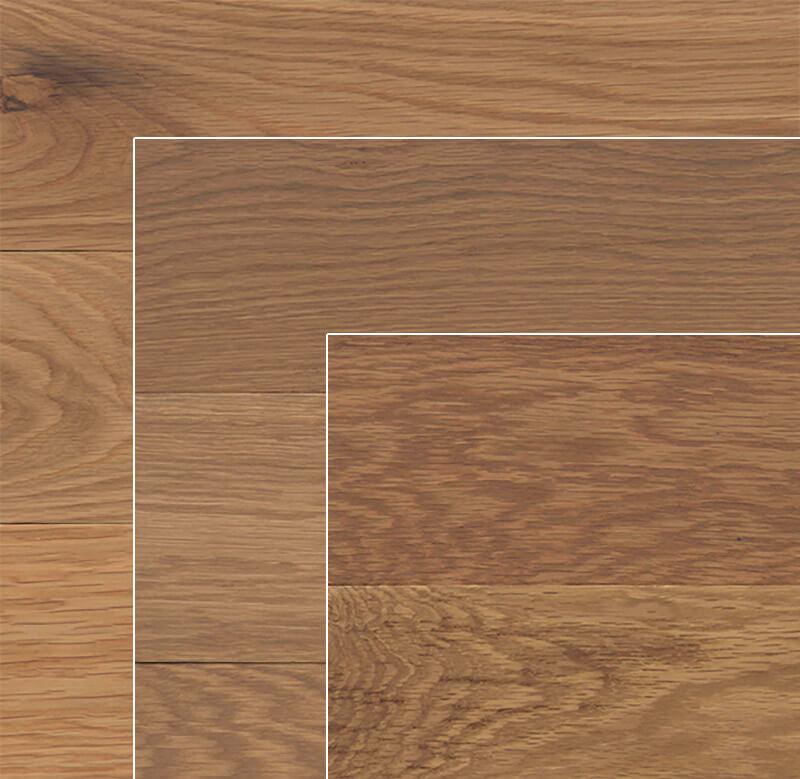 Colors in this shade range include Neutral or Natural (depending on stain brands), Golden Oak, and Fruitwood.
Mixed Colors:
 You can also mix different shades of stain to create custom looks that reflect your style preferences better than one single shade alone could do on its own. For example, many people love the look of Ebony but don't want that intense shade. When mixed with Natural, it lightens the tone while keeping the shade intact.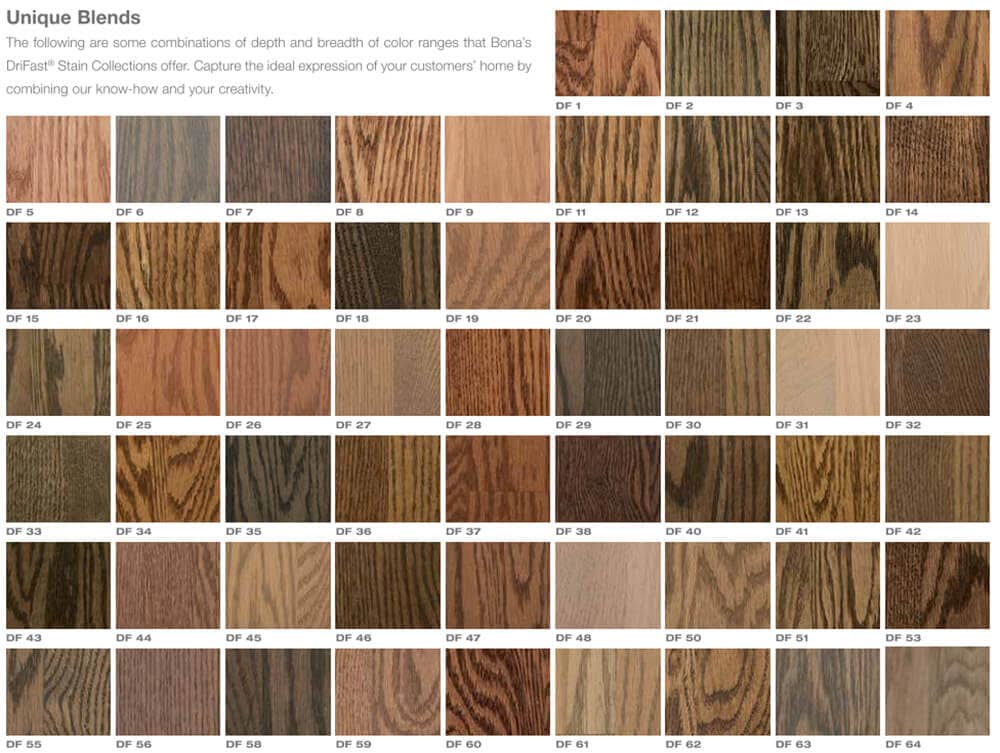 Above are some suggestions for mixing stain combinations from Bona. The choices here to mix stain colors are endless. This initial choice of what overall color group to go with is a big decision. It will significantly impact your home's overall look and feel.
Things to consider before choosing a hardwood floor stain color:
Are the furniture pieces within the room going to stay or eventually be replaced?
How big are your rooms?
Is there a lot of natural light coming in through the windows?
What are the wall colors, and will you paint them down the road to change the color?
What color are your kitchen cabinets? Are they painted, laminated, or wood? Will you be keeping them?
How much contrast do you want between all these items?
What is the overall design style you are hoping to achieve?
Take the time to consider upholstery fabrics, wall paint colors, and cabinetry with potential color choices so everything ties together nicely. Give more importance to things that are harder to change up, like cabinets versus walls that you can easily paint.
Whether you're looking for something light and airy, dark and dramatic, neutral or mid-toned, or even a custom blend, there is sure to be a color that fits your style while still fitting within the overall aesthetic of your home décor scheme.
How do you then decide on a final stain color?
Once you decide on your basic stain shade, the next step is to select the perfect stain color from that color group. Our best tip is to choose your three favorite colors and have your local hardwood floor refinishing contractor in Boston (or your hometown) make some samples for you. You want these samples to be large enough to get a good feel for each color.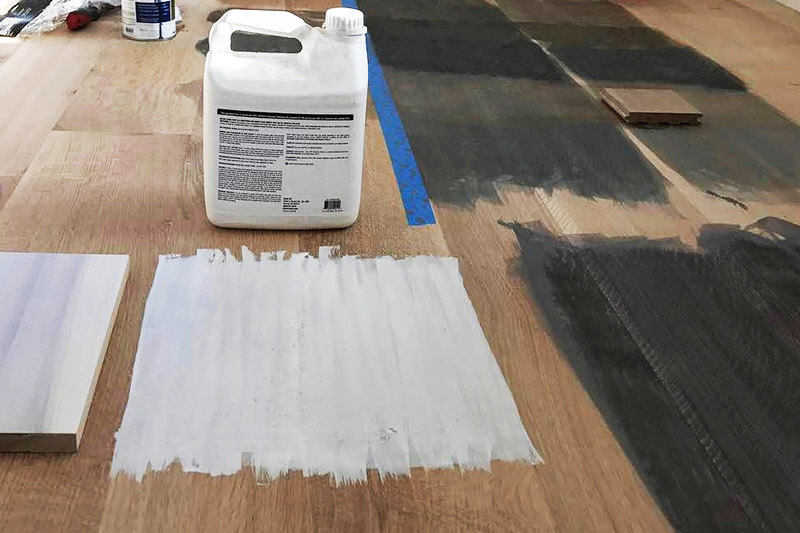 If they are on moveable panels vs. directly on the floor, you can move them around to see how they will look in different spots. Place them next to the cabinetry, furniture, and walls. Get a good feel for how each one looks in each location. Take a few days to see how they look in different lighting conditions at various times of the day. Remember, your flooring is the biggest consistent element in a room. It ties everything together. You want the overall feel of the room to look cohesive and coherent. One color will eventually grow on you and seem right. That's your perfect hardwood floor stain color! It's important to remember that different types of wood absorb stains differently, so some colors may turn out differently than they appear on sample boards. To get an accurate idea of what each stain looks like once applied to the flooring material, it is best practice to test small areas directly on your floor before fully staining the flooring project's surface area. This way, you can ensure that whatever color chosen fits perfectly with existing furniture pieces and paint colors throughout the rest of the house without any regrets later.
Water Popping Wood Floors Before Staining – What Is It, Should You Do It?
Water popping is an important step to consider before staining your hardwood floors. It's a process that opens up the wood's pores, allowing the stain to penetrate more deeply and evenly into the wood, giving it a deeper, richer hue. It works because when the wood is dampened with water, the grain rises, and the surface area becomes "larger" and more absorbent, allowing for better and more consistent stain penetration. This process gives your floor a more even and darker result that you may not get with just applying the stain over non-water-popped floors. It also removes micro-scratches from the sanding machines that can be highlighted after applying the stain.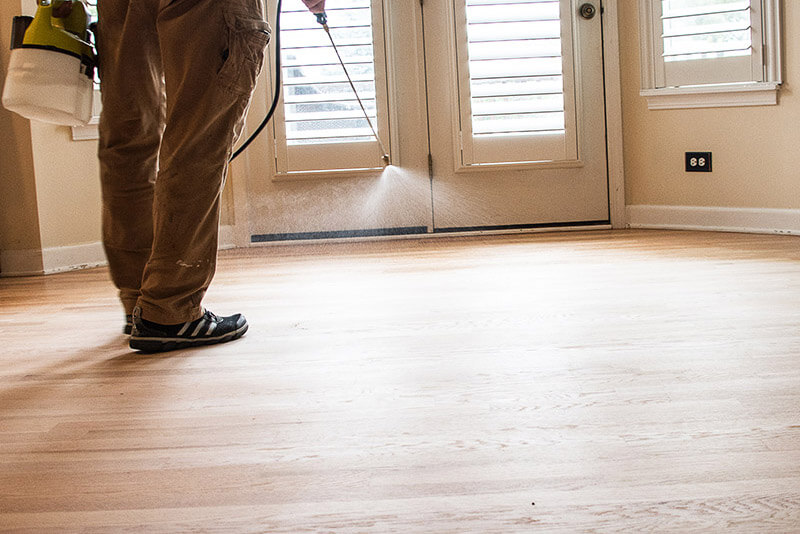 The water popping process is relatively simple but adds a few additional steps to the staining process: First, the floor is sanded up to staining grade. It's vacuumed and cleaned to remove any dirt or debris. Then clean water is sprayed on or applied with a clean rag. Once applied, the wood is left to dry completely before applying the stain. If you decide on a dark hardwood floor stain color, we strongly suggest having your wood flooring water popped. Make sure the samples you choose are water popped to get an accurate color.
FAQs
Below are the most common questions we are asked about staining hardwood floors and wood floor stain colors.
What are the most popular hardwood floor stain colors in Boston?
The three most popular stain colors for hardwood floors we use with our customers in the Boston and South Shore of Massachusetts are Jacobean, Special Walnut, and Bark. These three shades are all from the Mid-Toned Color group. They perfectly balance light and dark, allowing them to fit into almost any decor style. They help to hide dirt better than the much darker colors, making them an ideal choice for high-trafficked homes. Additionally, these popular shades of brown stain add warmth and depth to any room without being too overpowering or distracting from other design elements. They blend in well with most cabinetry too. It's easy to see why they are the most popular hardwood floor stains in Boston.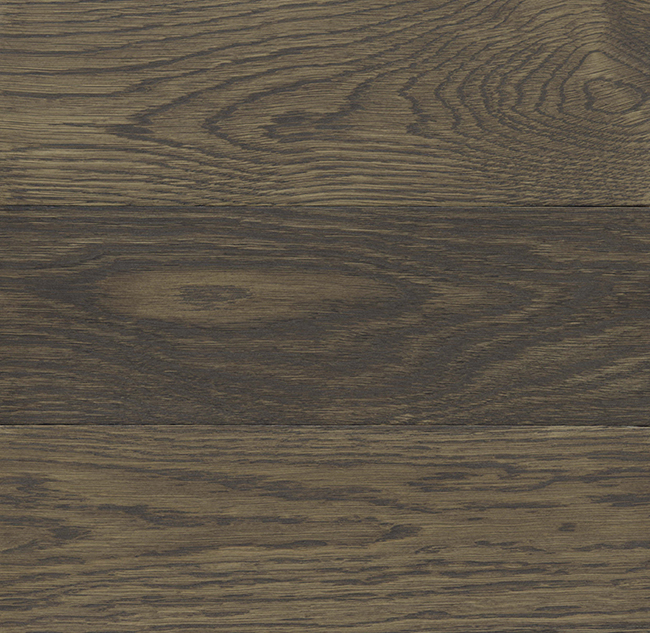 The color above is Jacobean, one of the most popular hardwood floor stain colors we use.
Which shows scratches more – light stains or dark stains?
All hardwood floors eventually get scratched, but dark hardwood floors will show scratches more. This is because if you scratch through the dark-colored stain, the contrast is greater with light wood underneath versus a lighter-colored stain.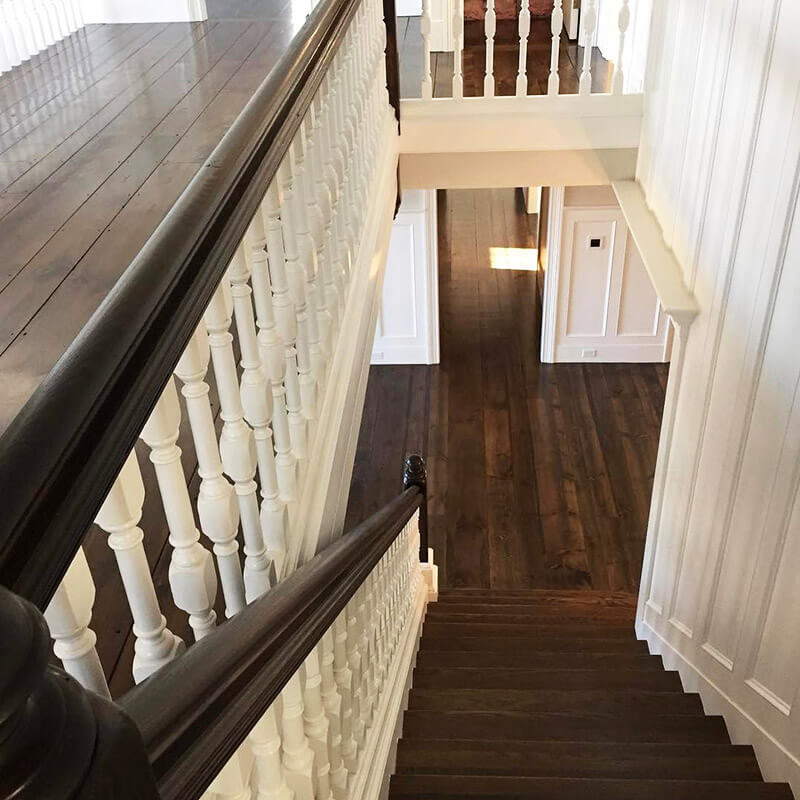 Which stain color is best if you have pets?
A shade from the Light Color group or Neutral Color group are usually much better if you have pet dogs and a busy home because, as we said above, light hardwood floors reveal scratches less. Dog hair will also be better hidden on lighter floors in most cases. However, if you have dogs on your wood floors, consider including an additional finish coat or a higher commercial-grade of finish so they last longer.
If you decide to go dark, how dark should you go?
How dark a stain you go will depend on your taste. The most popular color we apply presently is Jacobean. Ebony is also popular, but it's lighter than some individuals anticipate. As mentioned above, there is the option to do water popping, which opens the pores in the wood and darkens the effect of the stain more. Many of our South Shore, Massachusetts hardwood flooring customers choose a 50/50 mix of Ebony and Jacobean. It's a great look that isn't too dark.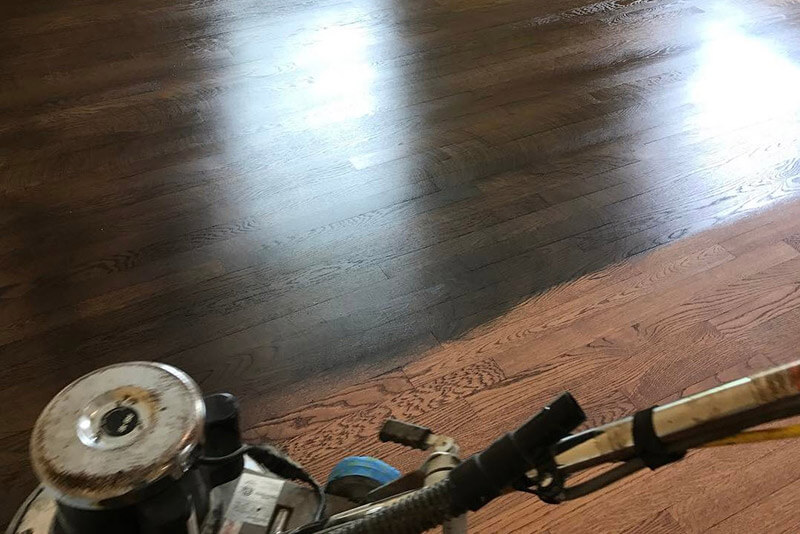 Duraseal has a new stain called Real Black if you want to go super dark with your floors. It's even darker than Ebony. It conceals all of the oak graining essentially. Dark Walnut is somewhat lighter than Jacobean and if you feel Jacobean is still too dark for your tastes, maybe give this a shot. For a little lighter choice, consider Antique Brown and Coffee Brown. The lighting of your rooms will also significantly impact how dark the wood floors look. The same floor, with the same stain, can look dramatically different in another house. Remember that the wood floor stain colors will also vary depending on your wood flooring species. For example, Red Oak will look different from White Oak. In addition, the grade of the wood will make the color look different. With wood species such as Pine, Maple, or Douglas Fir, the color will vary significantly compared to Oak floors. This is because each of these species absorbs the stain pigments differently.
Which costs more – Unstained, natural, light, or dark hardwood floors?
An unstained floor is less expensive than a stain when refinishing existing hardwood floors. Staining a floor involves much more work. Quite a lot of additional sanding is needed. And especially if you are going dark, the floors may need to be water popped, which adds extra time.
What about my wood kitchen cabinets – should I match them?
If you have a wood-colored kitchen, you'll want to select a color that contrasts what you have. Otherwise, it will blend in too much and look dull. Most of the time, dark floors look better with lighter cabinets, and lighter-colored floors look better with darker cabinets.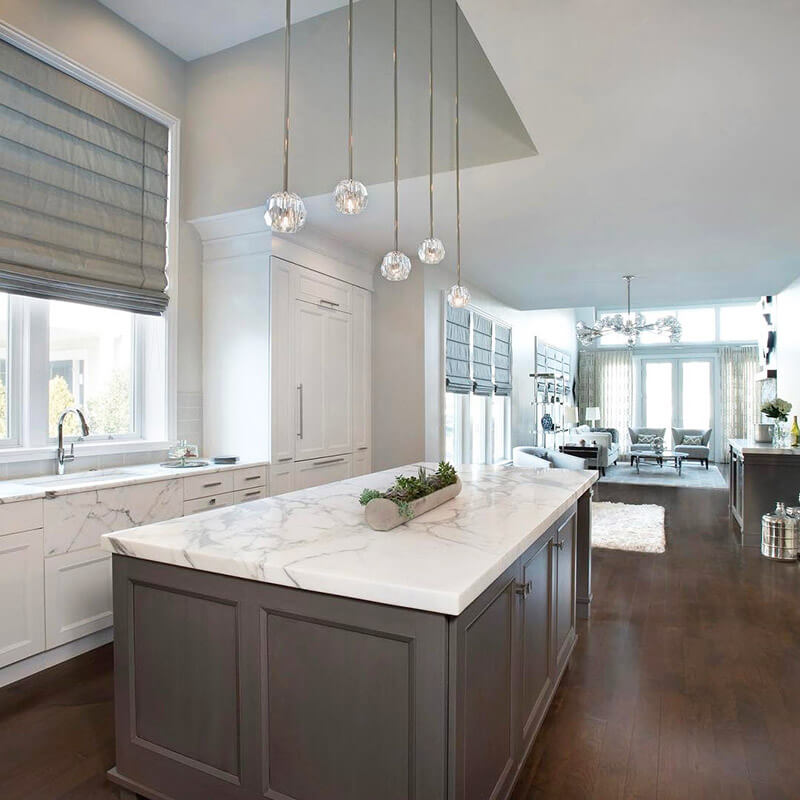 Can I use dark hardwood floor stain to cover up damage?
If your floor is old and has many flaws (water damage, pet urine damage, knots, etc.), a darker stain will camouflage discolorations and damage much better than lighter stain colors. If your floor has significant damaged areas, brand-new wood can typically be woven in for repair work before staining if needed.
Which hardwood stain colors look modern?
Usually, extremely dark, clean white, or light gray flooring gives the most contemporary look, as do natural floors with a clear, low-sheen, water-borne finish.
Which brand of stain is best for hardwood floors?
We use a few professional stain brands for hardwood floor staining in the south Boston area. We have a lot of experience with Duraseal, Bona, and Minwax stains and have had good results with each brand. Each has a professional look and holds up well under professional finish systems. The deciding factor will be what color stain you choose and whether the brand you like supplies it.
In Conclusion
Ultimately, choosing a color will come down to personal preference. But keeping these suggestions above in mind can help you make an informed decision and choose the perfect hardwood floor stain color for your home.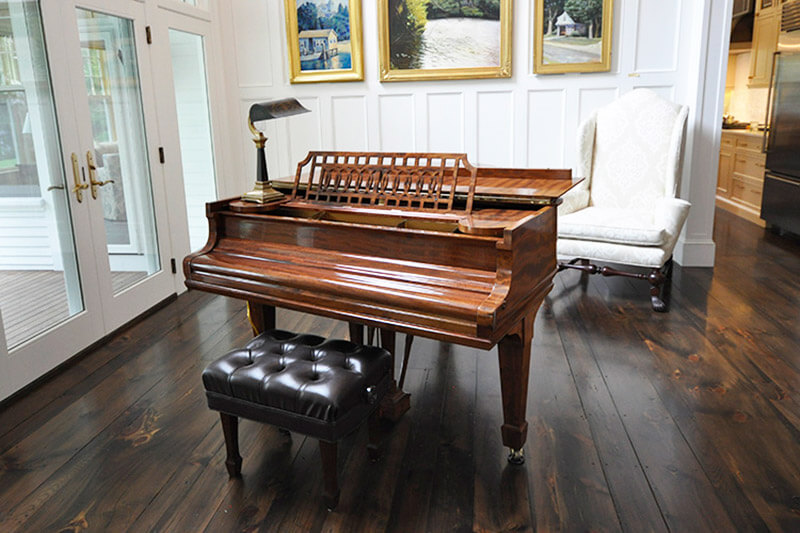 Are you looking for hardwood floor refinishing in the Boston area? Look no further than Dan's Custom Hardwood Floors. We specialize in hardwood floor installation and refinishing with an array of beautiful stain colors that will add elegance and style to any room in your house. With our experienced team, we guarantee quality workmanship at competitive prices so you can get the look you want without breaking the bank! 
Contact us
 today for more information on how we can help transform your space into something special!