Staining and Refinishing Hardwood Floors in Marshfield, MA
We've installed, stained, repaired and sanded and refinished many hardwood floors in Marshfield Massuchusetts over the years. Below is one of our favorite wood flooring projects…
We really enjoyed working on this flooring restoration project with 100 year old hardwood floors in Marshfield, MA. It had just gone under a major renovation when we were called to perform our flooring magic. Walls had been removed, floors chopped up and the homeowners had added on a new kitchen and family room. The two-story house four bedroom was around 4,500 square feet and there was 3,600 square foot of flooring that needed board replacements, repairs, sanding, staining and refinishing. It was quite a large project.
Hardwood Floor Refinishing Progress…
In the photo below you can see the beautiful original random width 100 year old pine floors in the music room and through to the kitchen after they were restored…
As mentioned above, because the original wood floors were so old, quite a few sections had to be replaced throughout various rooms. We sourced similar aged reclaimed pine to match them to the original floors and after some work, they blended in perfectly. Can you guess which boards aren't original in the photo above?
Below you can see the stained pine floors throughout the dining room, entrance and hallways…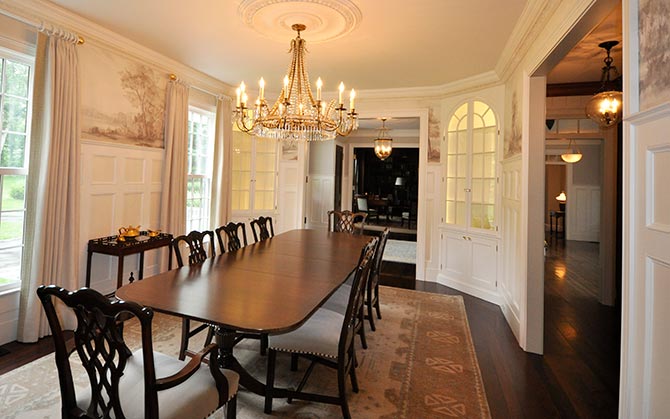 The next picture here shows the brand-new extension off the kitchen. Unfortunately, the pine floors in the kitchen had come to the end of their life after 100 years of constant use and they couldn't be saved.
Because the homeowners spent a lot of time in the kitchen and family room, they wanted a more durable flooring that would hold up better to the constant use and traffic. So, we installed 8-inch wide Live Sawn Oak. Oak is far more durable than the soft pine they had… but it was a very different looking wood and they didn't want it to be super noticeable. It was important to them for it to match the existing pine floors throughout the rest of the house as close as possible.
We went through seven different stain and dye colors before finding the perfect match. It ended up being a mix of aniline dye and Golden Oak stain.
You can see how it turned out below…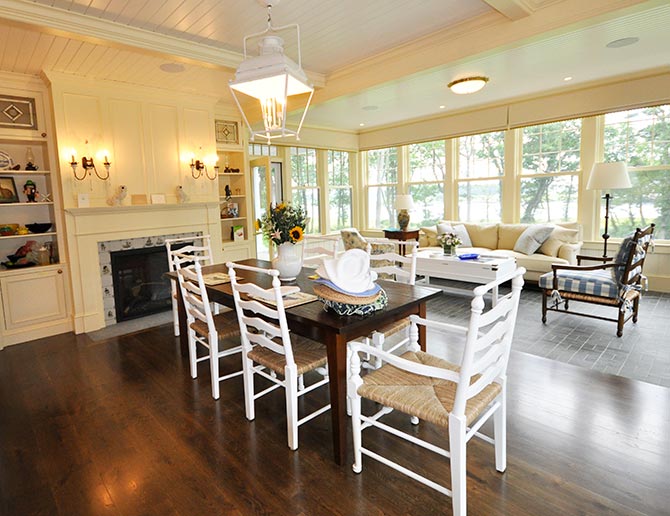 The floor was coated with Bona Woodline in a satin sheen. Bona Woodline is an oil based finish that provides a beautiful deep rich amber color that provides a nice build and looks great on dark stained floors.
Overall, this project took 2 weeks to complete. The first week was spent replacing and patching all the damaged sections of the original floor and installing the new oak flooring. Once that was finished it took another week to sand, dye, stain and finish the entire floor.
The homeowners were thrilled with the results and with good care and maintenance, the new floors should last them a long time into the future.
If you have an older historic home in Marshfield, MA (or anywhere on the South Shore) with original hardwood floors you would like restored, click on the Request a Quote button below and we'd be more than happy to arrange a time to come out and provide you with a free quote.
Hardwood Floors in Marshfield Project Details:
_______
Type of Flooring:
Random Width 100 year old Pine and 8" Live Sawn Oak
_______
Finish System Used:
Bona Woodline in Satin sheen
_______
Stain Color:
Aniline Dye and Golden Oak Stain
_______
We were looking to have wood floors installed on the second story of our 1879 home; our neighbors steered us to Dan's Custom Harwood Flooring, and we are so pleased they did. The team at Dan's went out of their way, providing exceptional service and guidance. The white oak floors were installed in less than two days with detailed craftsmanship – and for a very reasonable price. We highly recommend Dan's for their service, product, and skill.
Why Dan's for Hardwood Floor Installation and Refinishing in Marshfield MA?
As a well-established small business in the Marshfield community, we are known for our tried and true processes of installation and refinishing hardwood flooring. Our employees go through continuous education in order to constantly be learning the next best practices for our customers. Because we want our customers to trust us for all of their flooring needs, our installation strategies are provided in a transparent way so that our customers always know they can come to us with questions.
We are confident in our ability to bring your dream flooring vision to life! With years of experience in the hardwood industry, we know the best practices combined with the right tools and equipment is a recipe for success. We will never push you into a sale, and always provide the pros and cons of each option we offer to better explain your choices.
We want the process of getting a new floor to be enjoyable for you, not a lengthy decision to stress about! Dan's Custom Floors works with you to establish your needs, wants, and style guide to determine the perfect hardwood selection and installation process for your home.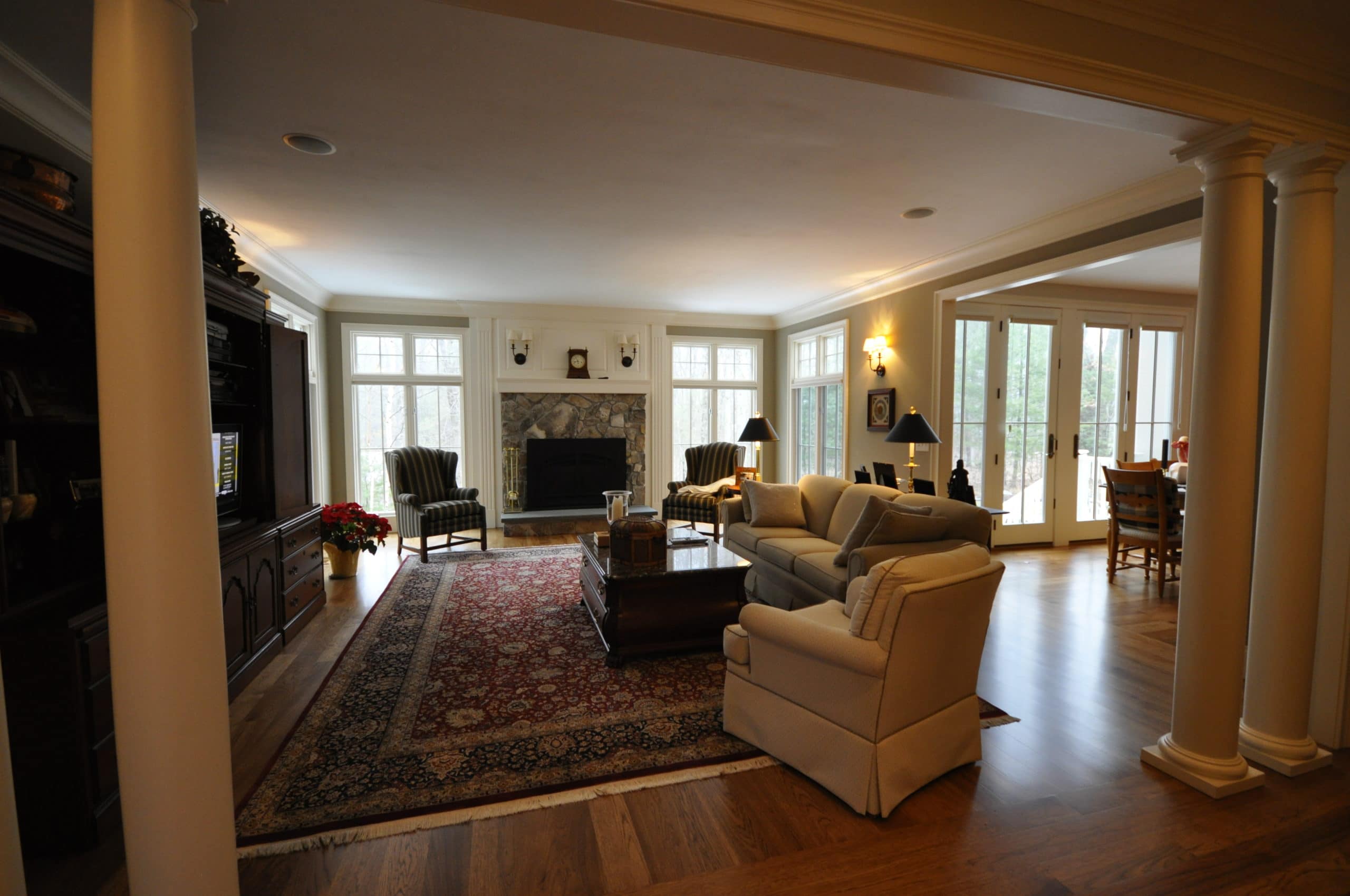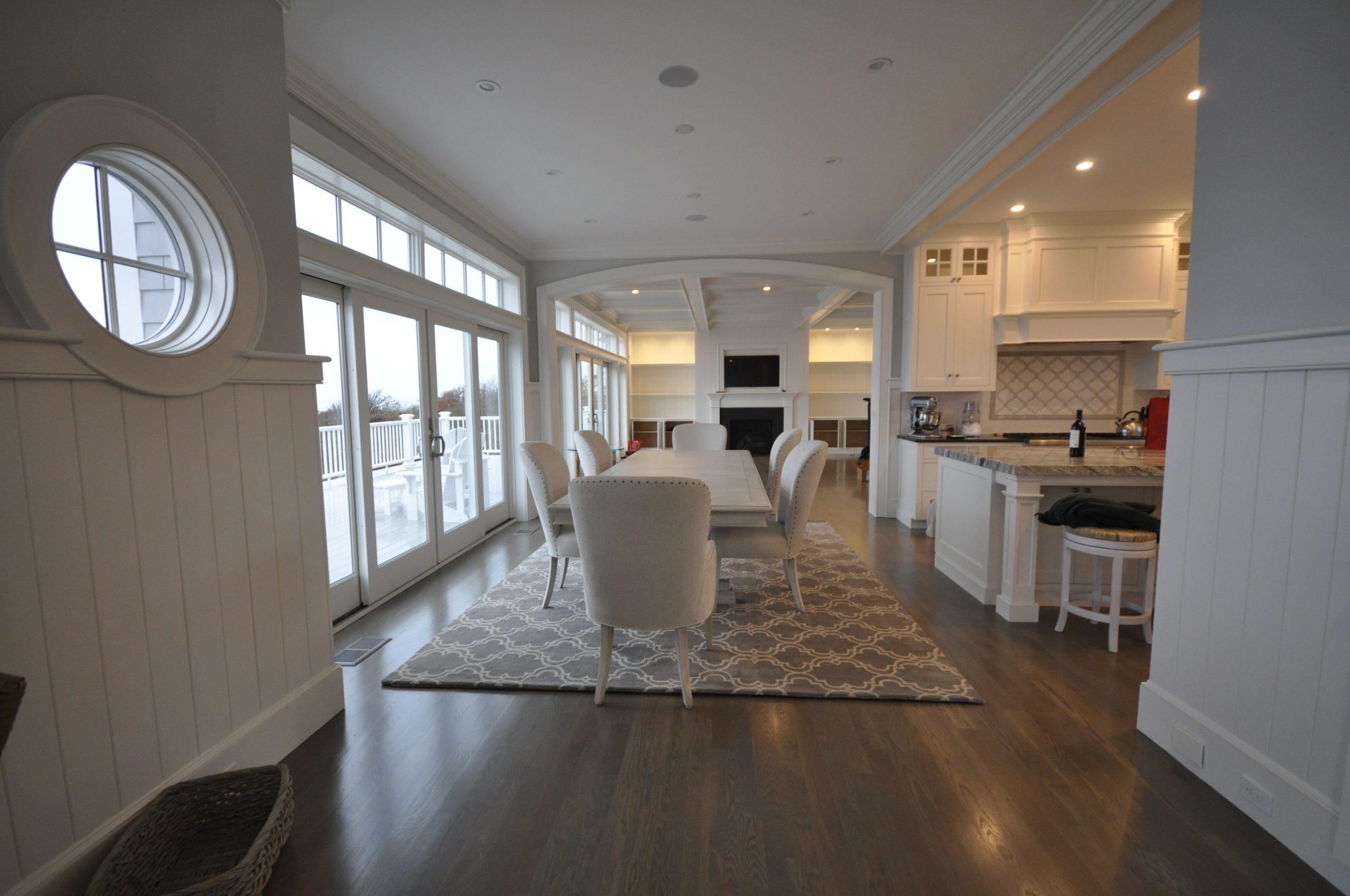 What to Expect for Your Marshfield Hardwood Installation & Refinish
We strive to fulfill if not exceed every single one of our customers expectations of us. What that means is that we promise a clean worksite, tight installation, the use of quality glue only where needed, and perfectly cut edges around the room of installation.
With that being said, each of the steps we take to provide quality installations of hardwood floors in Marshfield are guided by NWFA regulations for the safest and conscious use of all our materials and equipment. Our employees work collaboratively with you to minimize the disruption to your home life, and work to get the installation done quickly while never cutting corners.
Additionally, our employees are extremely conscious of the amount of dust they create and, if needed, will utilize our specialty dustless vacuum system in order to get rid of up to 99% of the dust created in the process. When you have any questions about the techniques or methods we use, any of our team members will be able to answer and explain the full process. When we are in your home, you are the boss – and that means the installation is completed up to your specifications and needs.
Our Process for Refinishing Hardwood Floors in Marshfield
Here at Dan's Custom Hardwood Floors in Marshfield, we like things to be simple: for one, simple things are easier to communicate, and two, simple is most often the way to go to ensure a proper job. We like to take it back to the basics with straightforward processes, knowledgeable employees, and transparent strategies.
From the very beginning, we start with open communication to our clients about what they would like to see in the results of refinishing their floors. We check for any damage like pet stains or repairs needed and inform you of your choices.
We will work with you to establish a timeline of when the project will be done, along with what you can expect from our experienced employees while they are in your home for the short duration. Once we are on the same page and have gotten a chance to physically see their floors, we can make an accurate bid for your project.
After that, we bring our tools and specialty vacuum systems to your Marshfield home to start the process of sanding down and dustless refinishing your soon-to-be beautiful floors.
After the floors have their last coat of finish, we complete a final walk-through with you. This is the time where we impart some information on the best ways to maintain your refinished floors for the longest life, and ensure you are satisfied with the dedicated work we have provided. At this point, all messes will be clean, and all materials will be out of the home to show the full results.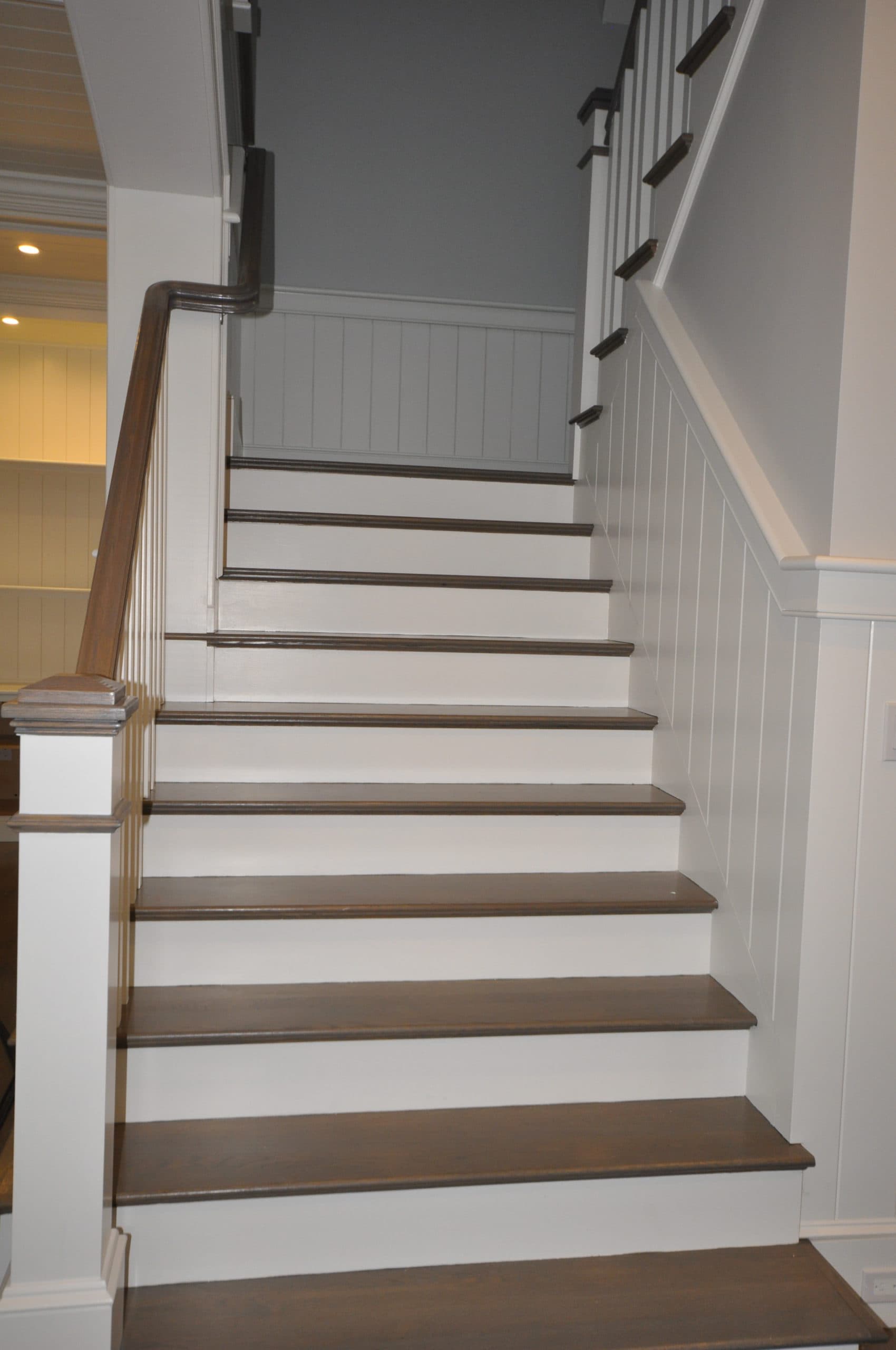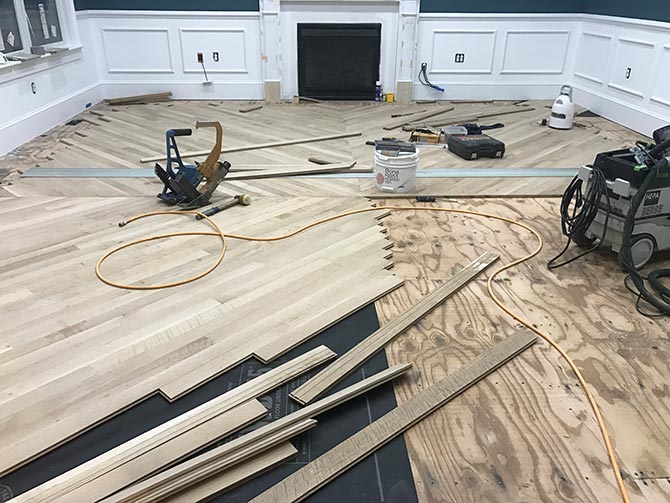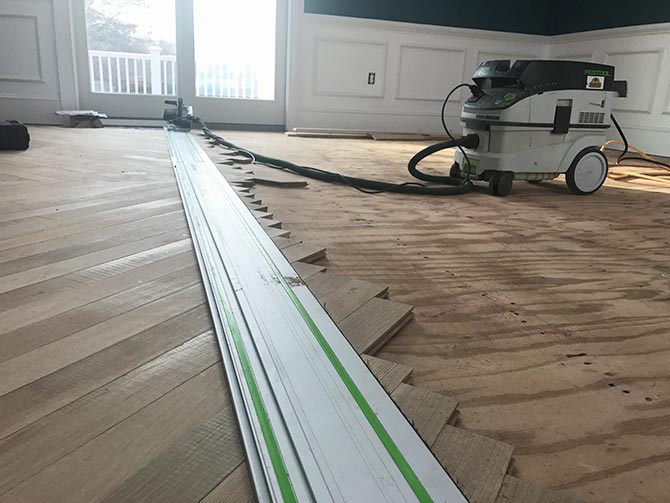 Installing Hardwood Floors in Marshfield - Our Process
At Dan's Custom Floors, we want our customers to fully understand all the steps that go into their installation because each of them is completed with the utmost care by our employees. When we prepare a bid for a customer in Marshfield, we put a lot of thought and effort into it.
This step includes our visit to your home to properly account for the materials we'll need along with any specialty equipment. We will provide a variety of hardwood options for our customers to choose from, and work with them to establish which one is the perfect fit for them and their family while incorporating their budget limits.
After an agreed bid, we work in a two-week waiting period for your hardwood to acclimate, and then schedule a time for installation. On the first day of installation, our friendly team members will walk with you through the project site to go over any last-minute concerns you may have. From there, we go through our high-quality installation process to ensure your lifetime hardwood floors.
At any time, you are more than welcome to ask us questions while we install your hardwood so that you feel as comfortable as possible with our work. Once our installation is complete after 3 to 5 days, we go through one last walk through with you to confirm your exact specifications have been followed.
Different Options for Your Hardwood Floors in Marshfield
Although there are many options to choose from in terms of hardwood flooring, Dan's Custom Floors tends to recommend a domestic choice because they are safer and much more stable than exotic hardwoods. While you can choose virtually any domestic hardwood that fits within your budget, we often see a common trend of walnut, hickory, maple, white oak, and red oak in Marshfield.
Hickory is extremely durable with a plethora of color variety and patterns within the wood and is a wonderful option for anyone with pets. On the other hand, walnut is often better suited in homes without kids or pets as it tends to be a fairly soft wood and can scratch easily, although its beautiful color is appealing to many.
Those that like to switch up their furnishings often will find that maple suits them well because it can match many types of styles. Oaks are beneficial for those looking for an option that hides debris and minimal scratching (although white oak is slightly stronger than red oak). No matter what option you are looking for, Dan's Custom Floors can install it for you for a lifetime of enjoyment!
Green Finish Options for Hardwood Floor Refinishing
As people become more aware of the chemicals they are bringing inside of their Boston homes, it is only natural to want to use green finishes. Traditional finishes tend to have harmful V.O.C.s and intense chemical smells that can last up to 60 days at a time, whereas newer green finishes can be water-based or U.V. finishes that are durable and much safer for consumers. Additionally, these finishes require little time to get rid of the smell associated with them and only require a maintenance refinishing coat about every 5-8 years.
The nice thing about green finishes is that customers still have a large variety of stains and colors to choose from instead of being limited with other "green" products. With the many different brands and no regulating body to decide what constitutes a typical "green finish," we recommend asking professionals on the safest option for your home.
Each brand has different pros and cons depending on overall environmental concern, off-gassing, types of ingredients, and effectiveness of the finish. When you have specific concerns about what you are looking for in a green finish, let the experts at Dan's Custom Hardwood Floors know so we can pick the appropriate finish for you and your family.
Are You Considering Restoring your Hardwood Floors in Marshfield MA?
If you're considering installation or refinishing your hardwood floors in Marshfield, Massuchusetts, call Dan's Custom Hardwood Floors on (781) 380-0768 and we'll happily provide a free quote.