Which Hardwood Floor Colors Are Trending For 2021?
2020 is finally over and 2021 has begun! We are off to an exciting, if somewhat shaky start to this year, and it is time for us to update our homes and property to keep up with the moving times. You may be thinking of having new cabinets installed to update your bathroom or kitchen, or buying all new furniture to refresh your living space. You may even be thinking of putting in a water feature in your front or backyard to increase the resale value and curb appeal of your home. Whether you are looking for a fresh coat of paint or a new roof, one thing is for certain: different colors trend at different times, and the requirements for interior design are changing all the time. This applies to floors as well. So what colors are trending in hardwood floors for 2021?
Hardwood floors are durable and gorgeous, adding a special pop to any aesthetic you may have going in your home.  One of the colors that are trending in hardwood floors this year is a grey/white. Now this is lucky, because neutrals, especially light greys and grey/whites are also trending colors in other areas of the home such as bathroom cabinets and vanities. We are seeing cabinets, counter tops, and walls in grey/whites this year in abundance. Your floor kind of pulls everything together in your house, so you will want to choose a color that goes well with the other fixtures, walls, and furnishings in your home.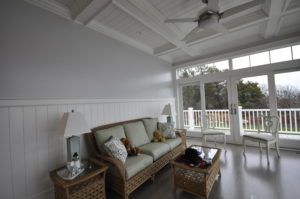 Grey is a great trending choice for 2021. This is because it is light enough to allow natural light to bounce off of it, which brightens any room, but it is not pristine white, which can be difficult to keep up with. Grey also goes with just about any other color, so whatever updates or furnishings you are considering for the rest of your home will likely match just fine, even if you end up changing your mind at the last minute. Grey also gives you the flexibility to change things up later in the year if you want to, overhauling things completely if that is your wish without throwing off the balance of floor with decor. 
Another color we are seeing for 2021 is brown. There are many shades of brown from deep chocolate to light brown. So, we have an array of choices here. Brown hides dirt and traffic marks much better than lighter colors such as yellows or whites do. This means you have to clean less often. Less cleaning means that your hardwood floor will retain its health and beauty for longer than it would with more frequent cleanings. Brown shades will match many other colors as well, but the benefit of a longer-lasting floor outweighs the benefit of easy coordination here. No matter what color you choose in 2021 for your hardwood floors, they are sure to shine with proper care and attention.